Tools & Maintenance Tire Levers
TL-6.2 Steel Core Tire Lever Set
Sold Out
Description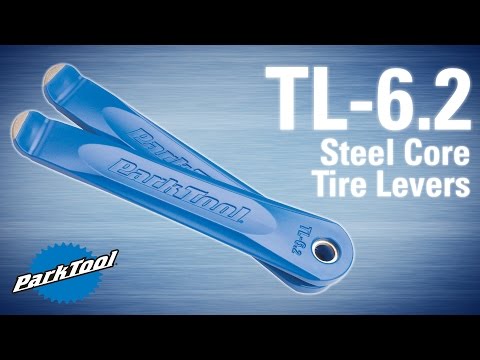 Tire and rim interfaces seem to getting more challenging. In part this is driven by tubeless designs, but we also see it with road clincher tires as well. While there are combinations or specifications that are simply not designed to work together, others are just tight. Steel core levers have been around for a long time, but most designs seem to fall short. The Park Tire Lever design, with it's tapered shapes and clean edges is very effective, and limits possible damage to both the rim and tire, making the extremely popular. Now, with the TL-6.2 Tire Levers, Park has developed a steel core lever that provides a higher lever of stiffness and some added power with refined shape of plastic version.
This new composite covered, steel core tire lever provides smooth, scratch-free operation and superior strength to help remove even the tightest tires. A more durable, slippery outer material is used, and an exposed steel tip more easily creates access and securely engages the tire bead. The steel internal runs the full length of the lever, for a very consistent feel. Some hybrid levers use a lesser steel insert, and the outer plastic flexes awkwardly in the hand. That is not the case here. The 5" length is perfect for most hand sizes and fits in many small saddle bags. If you know you struggle to get your tire off on the side of the road from an unexpected flat, the weight trade-off is well worth it.
Please keep in mind that aluminum rims, as well as rubber tires with Kevlar, Aramid or steel wire beads, can be damaged from steel core levers if the user is overly aggressive or optimistic with the levers. Always do your best to release the bed from from the hooks on both sides of the rim, and allow the tire to rest in the shorter diameter rim bed. Work with small sections, and if you feel you have to over do it, don't do it. Many of today's rims, particularly tubeless versions are strong, but kept as light as possible. With a steel lever, it can be easy to damage the rim, tube or the tire. That is why most levers are plastic, but steel core levers can be much more effective when needed. We highly recommend the TL-6.2 Tire Levers for shop or emergency use, but exercise care and use your best judgement.
Return to Top
Features
Steel core tire levers with composite cover
Cover has a very slick surface, so as not to grab or bind
Tip of lever is exposed steel, for easy entrance into the tire/rim interface
Edges are shaped for good control, provide hand grip
5" Length is ideal for compact leverage, and still fits in most saddle bags
No spoke hook, but levers have hole for hanging in home or pro shops
Sold in pairs, with a lay-flat design, but will not lock together
Use with care to protect rims and tires
Return to Top