Travel & Storage Car Travel Systems
Rocky Mounts Backstage 2-Bike Rack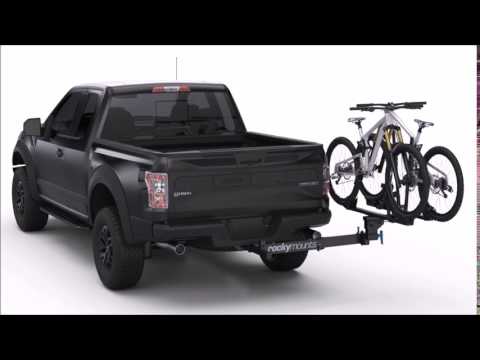 The Backstage is the first swing-away style platform receiver rack that is properly executed and built to handle the stress and load of the distance required. First, the Backstage is only for 2-bike use with a 2" receiver mount. There are no options to add another tray, nor will there be a 1¼" receiver version. Second, the Backstage's cantilevered arm swings out 42", which is long enough for every SUV, pick-up, and van tested. Unless you have an 8' wide flatbed or RV, or a Hummer H1, you should be good to go. The sheer convenience of having full access to the back of your vehicle, with a 2-bike rack that can carry 2 bikes, up to 60lbs per bike, with tires up to 5" wide and wheelbase up to 48" means that just about every standard adult bike, from road race to fat bike can be accommodated.
The Backstage still functions like a standard platform receiver rack. When empty you can use the front easy release lever to fold the rack up to 90°, or when loaded, can still tilt down and away 30° for quick back of vehicle access. The standard spacing between the two bike trays is 12", but you have 3" of lateral movement of each tray. For ease of use and frame damage prevention the ratcheting hooks on the pivoting upright arms hold your bikes securely by the front wheels with zero frame contact. Both front and rear wheel cradles are large enough to make use simple and easy when loading bikes. The pivoting rear wheel cradles have ratcheting straps that adjust to fit bikes of most lengths, while the extra-long wheel straps accommodate fat bike tires up to 5" wide.
Assembling the Backstage out of the box, while best done in a large open space, with a helper on hand, is actually very straightforward. Once ready, installation is quick and easy with the hand tensioning knob and anti-rattle hitch pin. You insert the extension into the receiver of your vehicle and use the hitch pin. The tighten the hand knob until the unit is tight and stable. You get a hitch lock, as well as a cable lock, which allow you to secure the rack to the vehicle and the bikes to the rack. Lock cores and keys are supplied for the lock housings. The frame construction is square steel tubing, while the bike carriers are largely aluminum, and all are powdercoated black to fight corrosion. The Backstage weighs 75lbs, so most folks will be best served having help when installing or removing.
Basically the Rocky Mounts Backstage 2-Bike Rack take everything that is great about their receiver racks, and adds the stout construction required for the swing-away feature. While not for everyone, this is the 2" receiver rack that many riders have been dreaming of. Now you can wake up and have one.
Features
Hitch-mounted, Swing-away, platform-style bike rack carries up to 2 bikes o
Swing away feature clears 42", works with vast majority of vehicle
For 2" receivers only, and NOT upgradable for additional bike (s)
Full feature receiver rack, fold up, tilts down and away
Two carrier trays spaced at 12", with 3" of adjustment possible
Each carrier has a 60lb max weight capacity, 48" max wheelbase
Can carry wheel sizes from 20-29", upto to 5" wide
Anti-rattle hitch pin system, with hand tension control knob to stabilize rack
Hitch pin lock and integrated cable lock supplied, with lock cores and keys
Dimensions: 54.8" wide, 10" from hitch pin to start of tray
Durable steel & aluminum construction w/ rust nonresistant powdercoat finish
Color: Black
Weight: 75lbs