Road Shimano Groupset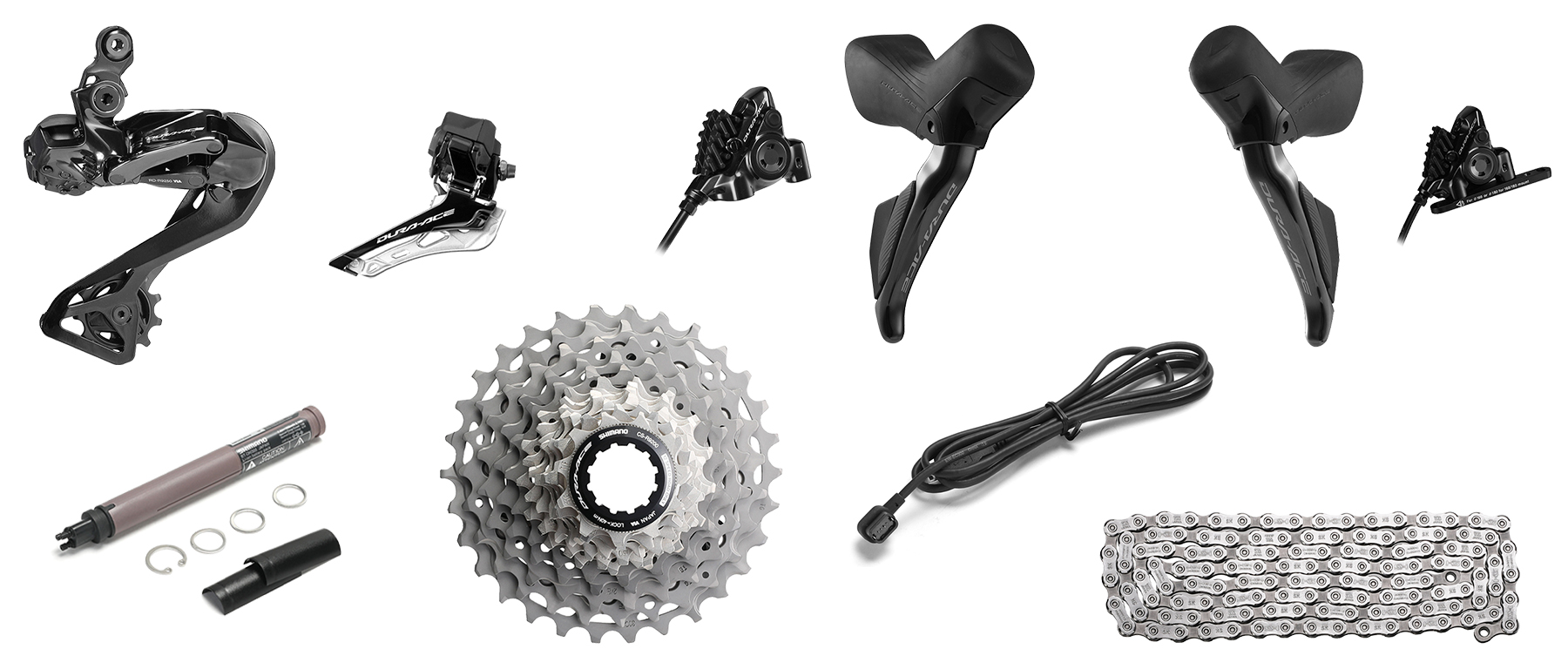 Dura-Ace R9270 Di2 12-Speed Kit
Excel Sports Part #
Shimano Part #
UPC/EAN#
Actual Product Weight grams
Request Stock Alert
Description

To get cyclists and mechanics started with the updated and redesigned Di2 shifting system for the Dura-Ace R9200-series 12-speed components, Excel Sports is offering this special component kit package for faster, easier purchase. You get the key Di2-related components and essentials that are required for a frame build with hydraulic disc braking. We have also included the new Battery, charging cable, a 12-Speed chain, and your choice of the R9200 cassette options (11-3T or 11-34T). Given the challenge of sourcing Dura-Ace components, we are assembling these kits as items become available. Please know that some kits will come with the Shimano-boxed Lever with Caliper, while others may come with individually packaged lever, caliper, and hydraulic hose kit items. Other components that have options specific to a frame/rider/set-up are offered separately.
The R9200 series is only available in the new Di2 system, and won't be offered for mechanical shifting. Shimano is referring to this as "wired-less", as the shift levers powered by coin cell style batteries, while an internal seatpost mounted battery is wired to the front and rear derailleurs. This eliminates complicated E-Tube wire routing in today's fully integrated cockpit bikes and keeps the system in premium efficiency all around. Shimano calls the R9200 series the "Science of Speed", as every detail, every decision, and every component of the R9200 series is engineered to deliver a faster, more reliable, and more intuitive ride experience. Shimano dedicated years of research, development, and testing to refine its this flagship road system.
The new shifting system delivers 58% faster rear shifting and 45% faster front shifting compared to the wired R9100 Di2. The Di2 lever switches are also redesigned for better control and easier access. The longer switches are easier to reach, and an increased offset between the switches makes them easier to differentiate while riding. A third, accessory switch on the top of each hood carries forward. The shifter bodies are 4.6mm longer for better hand position and safe control. Ergonomics of the upright section and the overall design itself are now even better, with a natural feel and more purchase area. The hydraulic brake system now features Shimano's proven SERVO WAVE technology to enhance performance thanks to a faster initial bite point followed by a wider control area. This allows riders to modulate their braking forces more easily, with precision. The update delivers a quieter braking system. The brake calipers boast a 10% increase in pad-to-rotor clearance to reduce noise while a separate bleed port and valve screw improve the bleeding process.
The new DN300 battery has multiple ports (3) on it's base, for a wireless cockpit set-up, only two SD300 wires (frame-size dictates lengths) are required and sold separately. Each shifter is otherwise powered by a CR1632 coin cell battery. For those looking for a Di2 Junction Box, the R9200-series moves the charging port, Function button and D-FLY communication system- plus the LED system indicator, to the body of the rear derailleur. The 4th generation E-Tube App simplifies the set-up and diagnostic process, with a much more effective interface.
Return to Top
Features
Dura-Ace R9200 12-speed, Di2/Hydraulic Disc Brake Kit items to get your build started
Contains: Di2 Shift/Brake Levers w/Calipers | Di2 Front/Rear Derailleurs | BT-DN300 Battery, | EW-EC300 USB-A Charging cable for RD | CN-M8100 Chain | Cassette (your choice in the selection menu of 11-30T or 11-34T)
You will still need: New EW-SD300 e-Tube wires (2) of frame dictated length from bottom of your seatpost to the FD, and RD | 12s Shimano Crankset with chainring combo and arm length of choice, 24mm Bottom Bracket that fits your frame | 2 Disc Brake Rotors (RT-MT900/800 or equivalent) in your desired size(s)
Detailed Kit Contents All listed weights are actual, out of the box
ST-R9270 Shift/Brake Levers / 2x12-speed Dual-Control, 178g each

Wireless Di2 connectivity (CR1632 coin cell powered secure signal sent to RD)
Programmable button function; compatible with satellite shifters
Refined hood for improved ergonomics and aerodynamics
Hoods are taller with a slight curve inward for a more secure, natural position and control
Improved button access, plus carryover of the top-of-hood accessory button
4.6mm longer reach on hood body for increased security and control
Braking: SERVO WAVE technology enhances brake performance
Faster initial bite point followed by wider control area; modulate braking forces more easily, precisely

BR-R9270 Brake Calipers w/hoses, 144g each (prepped with levers)

Refined design, improved performance from Servo Wave technology of brake lever system
Separate bleed port and valve screw improve the bleeding process
13% wider control area from the brake lever; 10% wider pad clearance
FD-R9250 Front Derailleur (braze-on type only), 94g

Specific to the 12-speed system
Smaller (33% less frontal area) and lighter, much better clearance on wider tire frame designs

RD-R9250 Rear Derailleur (includes EW-EC300 charging cable), 216g

Shimano Shadow design is compact to the frame
Integrated D-FLY Connectivity, Charging Port, LED Indicator, Function Button
Compatible with 11-28, 11-30, 11-34 12-speed Shimano cassettes

EW-EC300 USB-A Charging cable with magnetic interface (affixes to Rear Derailleur when needed)
Di2 E-Tube BT-DN300 Built-in (Internal seatpost) Battery, 52g

Three SD300 e-Tube wire ports for direct FD, RD (shifters if desired) connection
Rated capacity (Ah): 0.5
Rated capacity (Wh): 3.7
Rated voltage (V): 7.4
Includes small parts and hardware for mounting inside seatpost (some posts may require a specific inner sleeve per post shape and diameter)

CS-R9200-12 HYPERGLIDE+ Road Cassette, 221g

Refined 12 step gear combination provides peak efficiency and accelerating performance for every situation
Faster, seamless shifts under maximum pedaling load
HyperGlide+ Technology seamless shifts both up and down the gear range
Requires HG+ 12-speed chain (same as 12s mountain CN-M9100/M8100)
Better chain engagement cuts abrasion, reduces maintenance, and lengthens the lifespan of the chain and cassette
Cogs are either 5 steel & 7 titanium or 6 steel & 6 titanium depending on combination
Two aluminum spiders for larger cogs, 3 spacers and 6 individual cogs, HG lockring
Compatible with HG11 and new Shimano 12-spd freehub bodies
Kit Options (*denotes titanium cog):

11-30T: 11 - 12 - 13 - 14 - 15 - 16 - 17* - 19* - 21* - 24* - 27* - 30*
11-34T: 11 - 12 - 13 - 14 - 15 - 17* - 19* - 21* - 24* - 27* - 30* - 34*

Finish: Titanium/Steel
Weight: 11-30T- 223 grams, 11-34T- 253 grams

CN-M8100-12 HG Chain, 251g (actual)

Design was updated and changed for M8100 XT, also official road chain option for R9200/8100
SIL-TEC treatment for extended wear, durability
QUICK-LINK (SM-CN910-12) Single-use master link

Finish (levers/calipers, derailleurs: R9200-series Polished Black
Select from: Kit with 11-30T cassette, or Kit with 11-34T cassette
Sold as a package- absolutely NO exchanges, trades, omissions; cannot be broken up for sale
Return to Top