Gravel Shimano Build Kit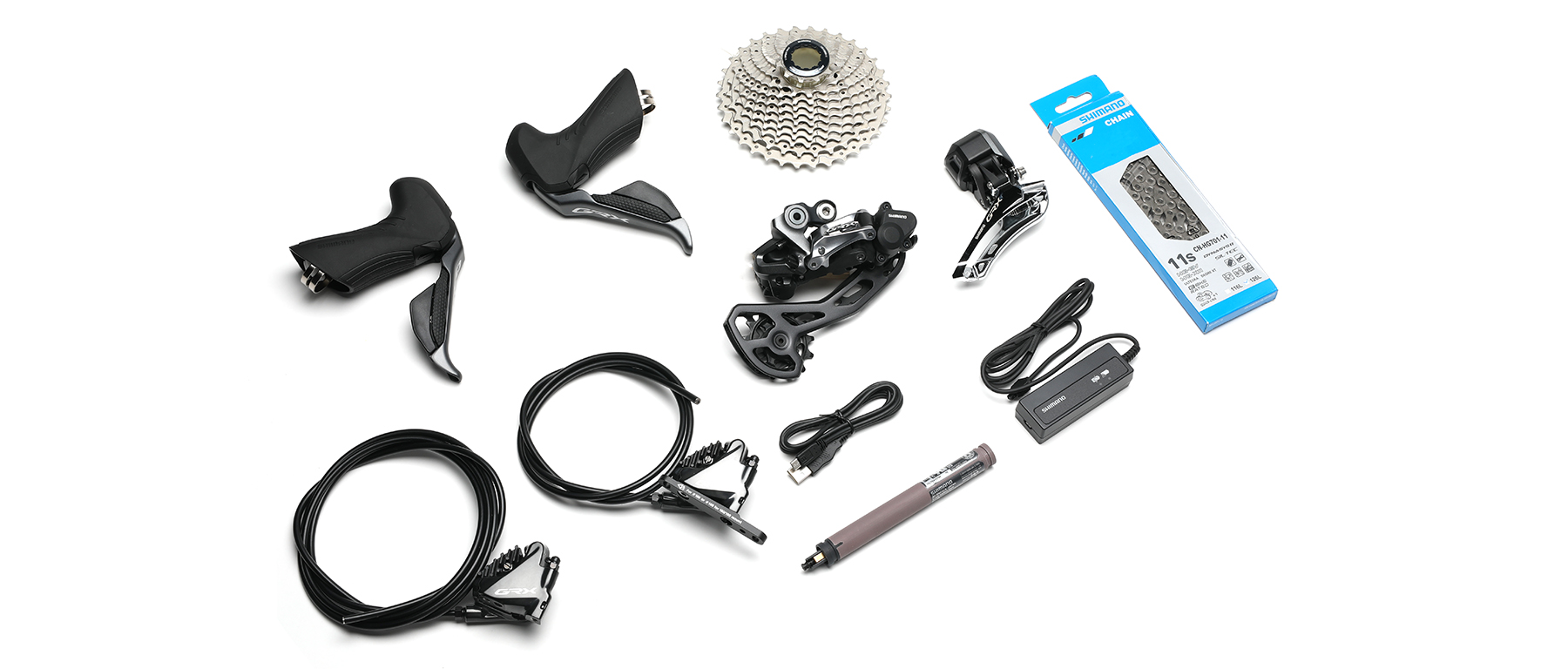 GRX Di2 2x 11-Speed Kit
Excel Sports Part # 110780
Shimano Part #
GRX2XDi2KIT11-34
Request Stock Alert
Description

This GRX 815 Di2 11-Speed Kit is an Excel Sports package of several specific GRX and Di2 items required to build an e-Tube wired 2x11 drop bar bike. Drivetrain and braking-wise, this package has everything you need except items selected by rider need/preference: a crankset, 24mm Shimano compatible bottom bracket, which will be specific to your frame, and disc brake rotors. We are offering a Shimano 11-34T 11-speed road bike cassette. For Di2-specific items we are including the internal seatpost battery, the charging transformer / charging cable w/ USB. You will still need all necessary Shimano SD50 Di2 e-Tube wires, and a Junction A type connection (most people opt for the IEWRS910 handlebar end type; Excel# 117254). Please feel free to call us at 800.627.6664 during business hours to discuss necessary wiring requirements for your specific frame and handlebar set-up.
Given the challenge of sourcing GRX components, we are assembling these kits as items become available. Please know that some kits will come with the Shimano-boxed Lever with Caliper, while others may come with individually packaged lever, caliper, and hydraulic hose kit items. Detailed information for this kit is listed below.
Return to Top
Features
GRX 815 series 2x11-speed Di2 shift/hydraulic disc brake components sold as a partial kit
Contains: Right Di2 Shift/Hydraulic Brake Dual Control Lever and Caliper | Left Dual Control Di2/Hydraulic Lever and Caliper | Di2 Front and Rear Derailleurs for 2x use, | 11s Chain | 11s 11-34T Cassette; Di2 Battery, Di2 Battery transformer with USB cable
You will still need: GRX 2x crankset, 24mm ID Shimano compatible Bottom Bracket that fits your frame | 2 Disc Brake Rotors (RT800 or equivalent) in your desired size(s) or another brand/model of comparable rotors, all SD50 Di2 wiring, Junction A box
GRX has been strength and durability optimized for the rough surfaces, debris, dust, and rigors of gravel use
Levers feature ergonomic and tactile shapes and features for greater control, rider connection
HYPERGLIDE improves shifting both up and down the cassette, even under maximum pedaling load
Drivetrain features optimized progressive gearing options engineered for performance, speed without sacrificing drivetrain efficiency
Detailed Group Contents for 2x11 GRX Di2 Kit
GRX ST-RX815 Di2 Right & Left Dual Control Lever and Disc Caliper kits (or individual lever, caliper, and hose kit components

11-spd Dual Di2 Shift / Hydraulic Disc Brake levers for GRX drivetrains
Set-up features both side Di2 shift levers as you can customize lever functions in Di2 e-Tube app
Two SD50 ports for e-Tube wiring
Hood and lever shapes feature gravel specific ergonomics, texture
Raised hood head prevents hand misalignment and slippage
Anti-slip lever texture and brake lever coating
Recessed finger notch prevents upward slipping
GRX Di2 specific lever shape and design-won't match GRX or non-GRX 800 series levers
Brake lever features ServoWave action, Reach Adjust, Free Stroke
Faster initial bite point followed by wider control area; modulate braking forces more easily, precisely
Calipers have refined design, improved performance from Servo Wave technology of brake lever system
Mineral oil fluid system, with easy to service/bleed design
Flat Mount BR-RX810 hydraulic brake caliper switch IceTech finned disc pads
SM-BH90-JK-SSR hydraulic hose and fittings

GRX RD-R815 Di2 Front Derailleur

Delivers quick and smooth front shifting even under high pedaling torque
Designed for a wider, 17T front range
One SD50 e-Tube wiring port
Programmed chain guide trim settings
FD compatible with full or semi Shimano Synchronized Shift modes
Wider tire clearance: Chainline +2.5 mm vs conventional road FD
Braze-on type
Chain line: 47mm
Compatible with Shimano LINKGLIDE, HG 11-speed chains
Chain stay angle: 61-66°
Top gear teeth 46-48T

GRX RD-R815 Di2 Rear Derailleur

Silent and uninterrupted rear shifting on rough terrain
Mid cage and pulley wheel sizing; for 2x11 Di2 drivetrain only
One SD50 e-Tube wiring port
13T Guide and Tension pulley wheels
Shimano Shadow+ design is compact to the frame; with clutch tensioner
Adjustable chain stabilizer prevents chain slapping and drops
Gravel-tuned clutch tension for rough surfaces; with on/off feature
Four fluoric coated link bushings
Shimano e-Tube Project Di2 electronic shifting component
Compatible with Shimano LINKGLIDE, HG 11-speed chains
38T total capacity, 30-34T low sprocket, 11T top sprocket, 11 pulley teeth
Compatible with 11-32T, 11-34T 11-speed Shimano road cassettes

CS-HG800 11-Speed Cassette, 11-34T

Compatible with GS cage rear derailleurs
Offers low climbing gears perfect for mixed surface riding
Rider-tuned gear combination & cadence management
Optimal 11-speed drivetrain gear ratio
11-Speed HG-EV cassette delivers great durability and improved HyperGlide shifting
Spacer required to fit hub body to HG11 road freehub (included with cassette)
Compatible with HG11 Mountain and HG11 Road (with spacer) freehub bodies
Dual aluminum spiders, HG lockring
Cogs: 11-34T: 11-13-15-17-19-21-23-25-27-30-34T (all Steel)

CN-HG701-11 XT/Ultegra Chain

Directional 11-speed chain delivers smooth and reliable shifting performance
SIL-TEC treatment on the roller link plates and pin link plates for increased durability
QUICK-LINK (SM-CN900-11) Single-use master link

Di2 E-Tube BT-DN110 Internal Battery

Waterproof Di2 battery designed for Di2 compatible seatpost installation with 11-speed E-Tube system
Requires Junction A Box for charging with SM-BCR2 Battery Charger
1.5 hour recharge time, run time varies with use/conditions
Lithium Ion cell at 500mAh, 3.7w delivering 7.4 volts.
No need to remove your seatpost to charge battery when wired properly
Comes with 2-piece plastic mount, washers, and lockring

Di2 E-Tube SM-BCR2 Battery Charger

Transformer allows for charging a dead battery in 1.5 hours
Includes USB (SM-USB1) power adapter
E-Tube compatible - plugs into Junction A box
No need to remove the battery with proper wiring
Can use with PC direct to update Di2 component firmware and change system functions
Finish: GRX Di2 Gray
Sold as a package- absolutely NO exchanges, trades, omissions; will not be broken up for sale

We recommend purchasing a 100ml bottle of Shimano Hydraulic Mineral Oil (Excel# 115703) for assembling/bleeding the lever, caliper, and hose system. For those seeking wireless ANT+ or BLE wireless communication to the Di2 system, purchase the Di2 E-Tube D-Fly EW-WU111 Wireless Transmitter (Excel#117276) and integrate it into the wiring set-up.
Return to Top