Road Campanolo Groupset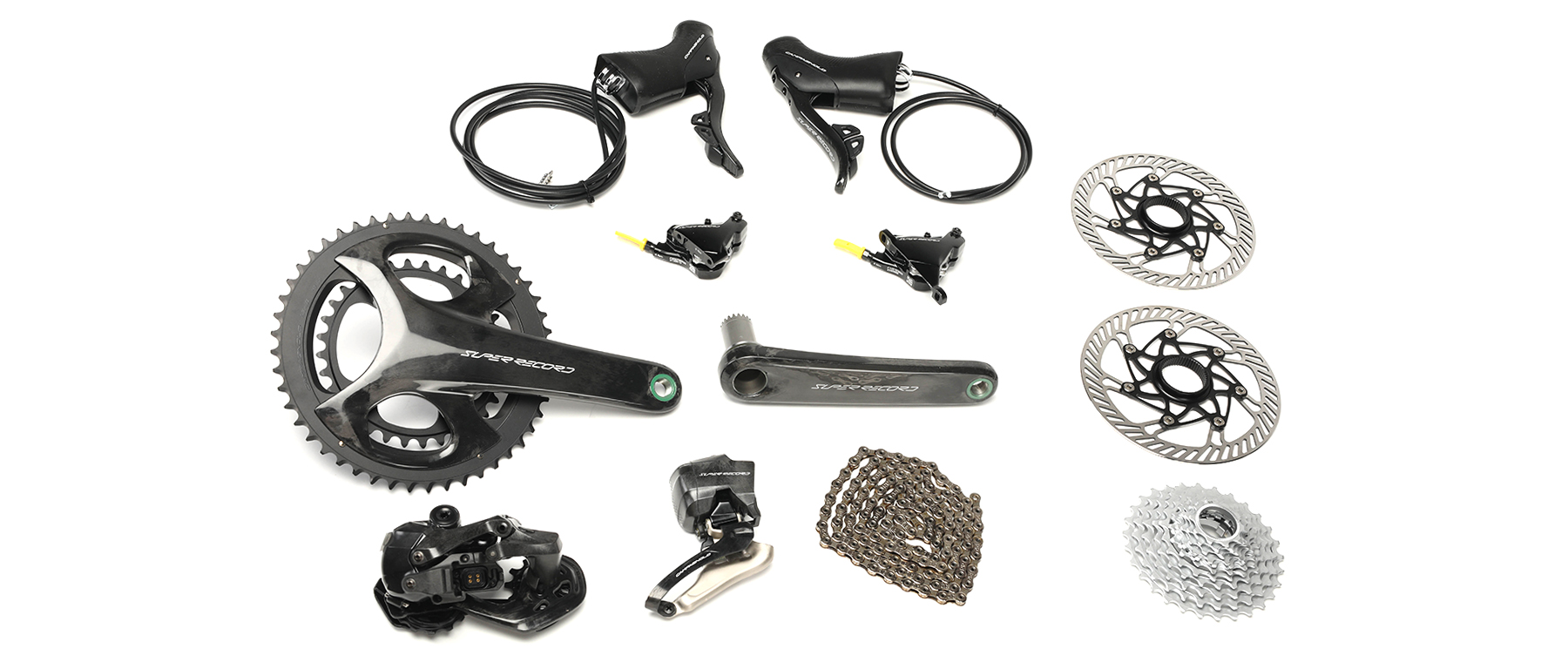 Super Record Wireless 12-Speed Groupset
Excel Sports Part # 000050
Campagnolo Part #
CA-SR12EPSWRL
Request Stock Alert
Description
With the new Super Record Wireless Groupset, Campagnolo has created a perfect cycling experience with exceptional braking capabilities and flawless cadence. Through rigorous dedicated research and precise real-world trials, Campagnolo's wireless gear components have surged ahead technologically. Every element within the Super Record Wireless Group has undergone a complete reimagining and meticulous production under the guidance of Campagnolo's team of skilled engineers. This has culminated in a top-tier groupset that establishes an entirely new standard for performance excellence.
The Super Record Wireless 12-Speed Groupset offered by Excel Sports comes complete with the following components: 12-Speed SR Crankset (various sizes available), EKAR Pro-Tec Bottom Bracket-ENG, 12-Speed SR Front Derailleur, 12-Speed SR Rear Derailleur, 12-Speed Cassette (various sizes available),Super Record 12-Speed Chain with C-Link, 12-Speed SR Left and Right Wireless Shifters with Calipers, 160/140mm AFS Rotors, Batteries for Front and Rear Derailleurs, Battery Charger, Charging Cable, Brake Mounting Screw, Front Brake Adaptor for 160mm Rotor. All items are boxed as a kit and are not able to be interchanged. Please speak to our sales team about your options. Escape from reality for the next few minutes and dive deeper into the details listed below about Campy's newly released Super Record Wireless Groupset, Enjoy!
Indulge in an unparalleled sensation while steering and pedaling, all courtesy of the impeccable ergonomic design of the controls, the remarkable flexibility of the levers, and the unparalleled accuracy of next-generation shifting technology. The shifter's ergonomics have been further enhanced for increased efficiency and effectiveness. This enhancement comes from the redesigned control body, which offers a comfortably secure high grip. Additionally, the brake lever has undergone a revamp to ensure accessibility even in low-grip situations, all while upholding Campagnolo's distinct style and design ethos. Notably, the brake lever's position is customizable, allowing for a perfect fit and catering to individual cyclists' preferences. This adaptability accommodates various handlebar types and hand sizes seamlessly. The absence of wires and cables simplifies installation, and the component boasts an impressively long battery life, thanks to the sophisticated firmware that adeptly manages all of its electronics. Precise control changes and adaptability can be accessed through the new MyCampy 3.0 app
The latest front derailleur from Super Record Wireless ushers in a new era of shifting, employing Bluetooth technology for seamless and instantaneous communication between the front derailleur and controls, all wirelessly. Every minute aspect has been meticulously enhanced to achieve peak functionality, all while prioritizing a user-centric design philosophy.
Utilizing the forefront of Campagnolo's technological prowess, the fresh Super Record Wireless rear derailleur ensures the utmost in shifting performance. With the complete elimination of cables, installation becomes effortless and maintenance straightforward. Crafted with a focus on user-centric design, the Super Record Wireless rear derailleur is paired with a high-capacity battery, boasting an impressive range of over 465 miles. Charging is swift, as the battery charges to full capacity within just 60 minutes. Monitoring battery levels is a breeze, achievable through the indicator LEDs on the component itself or via the MyCampy 3.0 app. Enhanced by the incorporation of carbon fiber, this component maintains a balance of lightweight design and robustness, exhibiting enduring resistance and reliability over time. A solitary rear derailleur that effortlessly adapts to all three available cassettes: 10-25t, 10-27t, and 10-29t.
Crafted and conceptualized from the ground up, the new Super Record Wireless cassettes seamlessly integrate with the N3W freewheel body featured across all modern Campagnolo road wheels. The N3W exhibits exceptional versatility, sporting identical groove profiles to the traditional Campagnolo freewheel body while being notably lighter and 4.4 mm more compact in length.
The novel Super Record Wireless 12x2 Speed crankset: an emblematic embodiment of Campagnolo's design prowess, featuring exposed carbon fiber that emphasizes its performance-oriented nature. Meticulously crafted, the Super Record Wireless crankset boasts a hollow structure for reduced weight and employs the Ultra-Torque locking mechanism with a titanium axle, efficiently channeling the cyclist's pedal force into the transmission. With the incorporation of ceramic USB bearings, the renowned Campagnolo hallmark of smoothness is impeccably maintained. A vital component of the new transmission system, the Super Record Wireless crankset is a key player in an innovative gearing setup (available in 34/50t, 32/48t, 29/45t chainring configurations), which, when combined with the new cassettes, presents an unparalleled array of gear inch ratios for enhanced cycling performance.
The redesign of the new Super Record chain was imperative to ensure seamless compatibility with all other components within the new transmission system. The foremost goal was to reduce its size, resulting in a width of 5.15 millimeters achieved through the integration of meticulously aligned pins that sit flush with the outer surface of the links. The second objective centered on preserving performance by incorporating the Ultra-link system, enhancing both safety and longevity of the chain. Additionally, a specialized treatment was applied to ensure exceptional smoothness and precision during shifting, further elevating its overall performance.
The new Super Record Campagnolo brake calipers are meticulously engineered to seamlessly pair with the cyclist's selected disc, ensuring a consistent standard of top-tier performance. The brake caliper offers the flexibility of compatibility with either a 140 mm disc (recommended for cyclists weighing up to 180lbs) or a 160 mm disc, catering to diverse preferences.
Even the creation of components like batteries is guided by a user-centric approach. Designed for seamless installation and equipped with a convenient battery charge indicator for quick checks, the batteries within the Super Record Wireless system provide a remarkable autonomy of over 465 miles on a single charge. Charging times are impressively swift, with the battery achieving full 100% capacity within a mere 60 minutes. Moreover, it takes just ten minutes to recharge more than a fifth of its capacity when required. Keeping tabs on the battery charge level is effortlessly accomplished through the intuitive at-a-glance dashboard on the MyCampy 3.0 app.
Return to Top
Features
Groupset is pre-packaged and Includes: Crankset, BB,FD, RD, Shifters, Calipers, Rotors (160mm), Chain, 2 Batteries, Charger, Charging Cable, Brake Mounting Screw, Front Brake Adaptor
Crankset and Cassette configurations limited through Excel Sports.
Crankset sizes available from Campy: 165mm, 170mm, 172.5mm, 175mm Chainring Configurations available from Campy: 45x29, 48x32, 50x34- Inquire with sales staff about ordering different crank size/configurations
Cassette sizes available from Campy: 10-25, 10-27, 10-29
Groupset Weight: 2,520g (45/29 crankset and 10-25t cassette)
Battery Life: Lasts up to 465 miles, Recharges to 100 percent in 60 minutes
Personalized configuration and information via MyCampy3.0 app
Return to Top