Mountain Hubs
Shimano XTR HB-M9110-BS Front Hub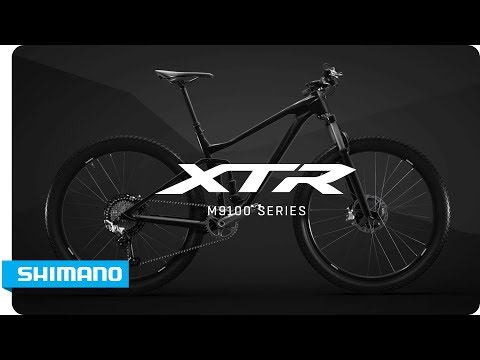 Handbuilt mountain bike wheels offer customization for rider weight, style, and forgiveness, and we have seen an increase in riders asking for builds with straight spokes and hubs. There are real advantages to straight pull: better spoke angles to the rim, less likelihood of spoke contact when built, higher spoke tension, and potentially a spoke that slides a bit on impact which reduces pressure on the rim and puts less stress on the spoke head in the process. Shimano recognizes the need and as they have built mountain and road wheels with straight pull spikes for years, clearly advocates for the practice. The XTR HB-M9110-BS Front Hub is the Boost - Straight pull (hence the BS designation) specific Center Lock Disc front hub released for custom builds with the XTR M9100 series component line. Straight pull has some definite advantages and the spokes rarely break at the head like a j-bend, with the major drawback being that straight pull spokes are harder to find at local shops around the world, so our advice is definitely have your wheel builder provide you with extra spokes with your wheel.
Many current and new mountain bike framesets feature Boost rear spacing. As such most fork manufacturers also increases the width of the front hub axle in the quest to gain greater strength, wheel stability and wider spaced bearings. The Shimano XTR HB-M9110-BS Front Hub the Boost 110mm wide axle version of the straight pull spoke M9110 front hub. Smooth, fast, sure, durable, and stout at 146 grams the Shimano XTR HB-M9110-BS Front Hub is the standard bearer for the full front hub line-up. While the rear version represents a new technology in Micro Spline, with the front Center Lock 15mm E-thru-axle hub Shimano's engineers basically embraced the concept of "if it ain't broke don't fix it". A wise decision as its predecessor already carried the the full array of Shimano's hub strengths.
In the M9100 series parlance, the M9110-BS Front Hub is an inline machined hub design for straight pull spokes. Offered here only as a 28 hole version (for 3x lacing only) with the 110mm axle width for a 15mm thru-axle system, this is the so-called Boost variant. Shimano just doesn't add a longer axle, as that is how many competitors do it, but widen the hubs shell so the bearing width is increased ensuring the wider assembly is actually stiffer- as intended. Otherwise why bother? The anodized aluminum shell is built to perfection, and carries the 110mm long oversized aluminum axle that features cone wrench flats for disassembly and adjustment.
Unlike most hub and wheel manufacturers Shimano eschews sealed cartridge bearings, which the engineers feel struggle to manage the angled forces a wheel is regularly forced to endure, creating counter forces that add friction and can limit bearing life. High quality stainless steel ball bearings ride in what Shimano calls a grinded cup and CBN cones. The seals used are a dual Labyrinth and Contact system that is known for incredible effectiveness. Servicing such hub bearings is actually quite simple, but unless you really ride the M9110-B front hub long and hard in terrible conditions, it is actually quite possible you will never service the hub. The bearings, grease, cup and cone, and seals are simply that great. As you can adjust the hub, you control your destiny.
This isn't hyperbole, as our full service shop has barely cracked open a top-level Shimano road or mountain hub for required service over the last decade, and we have sold a great many Shimano hubs and wheels. Our techs are also major fans of the simple spline mount Center Lock rotor system, which makes for fast and easy rotor changes, with ideal accuracy and consistency. Shimano does include an anodized aluminum Center Lock lockring with the hub. The 15mm thru-axle is generally supplied by the frameset or fork manufacturer, not Shimano. If you need reliability, top-level hub performance and plan to build your front wheel up with forgiving and widely available j-bend spokes, keep it light, simple and pure with the XTR HB-M9110-BS Front Hub.
Features
Simply one of the best front mountain bike disc hubs offered, with 110mm axle length
For use with straight pull spokes, 15/110mm thru-axle, Center Lock disc rotor
Stout machined and anodized aluminum wider hub shell, oversized aluminum axle
Features simple an easily serviced cup, cone, and ball bearing design
Internals heavily protected by proven Labyrinth and Contact seal system
Axle ends feature cone wrench flats for service/adjustment
Premium grade materials with direct, simple, and utterly reliable technologies
Wheelbuilder specifications

28 hole / 3 cross builds only
ERD: 550 - 610 mm (27.5-29" rims)
Rim offset: 0 - 3 mm
Flange diameter: 51mm
Flange distance: 62.76mm
O.L.D.: 110mm
Offset: 3.63mm
P.C.D.: 45 mm

Center Lock disc brake rotor interface; Anodized aluminum included
Option (TA, hole count): 15/110mm 28 hole
Finish: M9100 XTR polished grey
Weight: 146 grams