Clothing Warmers - Arm
Specialized Deflect UV Arm Sleeves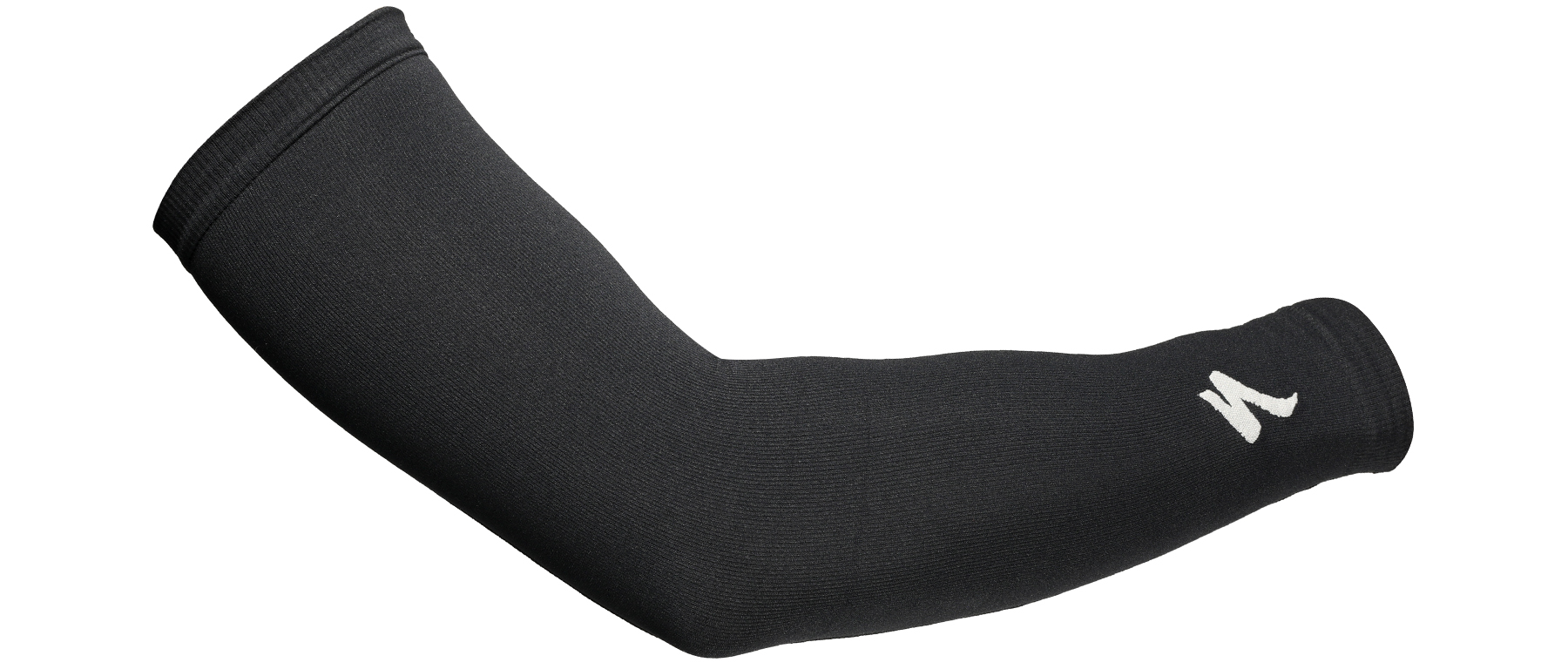 For better and worse, cyclists love riding in warm sunny weather, though damaging UV rays are always present. You have choices besides sunburn. Slather on the sunblock, or opt for arm sleeves that provide ample protection, as well having other fabric and treatment technologies that work to keep you cooler while logging miles and smiles on a perfect riding day. Specialized created their Deflect™ UV Arm Covers for just this reason, just don't let the full-arm coverage fool you, as they aren't necessarily for keeping you warm—although they could hit the sweet spot on a very moderate day.
Instead, they were developed to keep your skin protected from the sun's harmful ultraviolet rays, all without sacrificing anything to either comfort or temperature management. The reflector effect of the Deflect UV treatment is furthered application to the next-to-skin NILIT® Breeze yarns that are actually scientifically proven to reduce body temperature. This has been coupled with a right & left specific design that prevents any unwanted pinching or chafing, all while serving up UPF 50+ level of protection.
The arm sleeves feature an engineered construction that minimizes stitching and raised edges, while the knitted articulation delivers compression that supports muscles that would normally vibrate from road surface - tire interaction, and contribute the excellent fit and hold of this ideal summer arm sleeve system. Four size options ensure the best fit, and you can choose from White or Black colors.
Features
Lightweight, incredibly supportive summer arm sleeves with superior UV protection and active cooling
NILIT® Breeze yarns react to body heat and sweat, creating a cooling sensation that's been independently verified to lower body temperature
Engineered construction minimizes edges and stitching, creating a smooth, compressive feel against your skin
Knitted articulation and openings keep the warmers in place for the perfect fit
Deflect™ treatment delivers UPF 50+ protects your skin from harmful ultraviolet rays
Fabric: Knit 95% Nylon, 5% Spandex
Sizes: Small, Medium, Large, XL
Colors: Black, White
Helmets- Evade II, Prevail II, Echelon II, Propero III, Airnet
| Helmet Size | S | M | L |
| --- | --- | --- | --- |
| Head Circumference | 51-56cm (20-22") | 55-59cm (21¾-23¼") | 59-63cm (23¼-24¾") |
Helmets- Tactic 4, Gambit, Mode
| Helmet Size | S | M | L |
| --- | --- | --- | --- |
| Head Circumference | 51-56cm (20-22") | 55-59cm (21¾-23¼") | 58-62cm (22¾-24½") |
Cycling Shoes
| Specialized Euro | 36 | 37 | 38 | 39 | 40 | 41 | 42 | 43 | 44 | 45 | 46 | 47 | 48 | 49 |
| --- | --- | --- | --- | --- | --- | --- | --- | --- | --- | --- | --- | --- | --- | --- |
| Mens US | 4.25 | 5 | 5.75 | 6.5 | 7.5 | 8 | 9 | 9.6 | 10.6 | 11.5 | 12.25 | 13 | 13.75 | 14.5 |
| Specialized Euro | 35 | 36 | 37 | 38 | 38.5 | 39 | 39.5 | 40 | 40.5 | 41 | 41.5 | 42 | 42.5 | 43 | 43.5 | 44 |
| --- | --- | --- | --- | --- | --- | --- | --- | --- | --- | --- | --- | --- | --- | --- | --- | --- |
| Womens US | 5 | 5.75 | 6.5 | 7.25 | 7.5 | 8 | 8.5 | 9 | 9.25 | 9.5 | 10 | 10.5 | 10.75 | 11 | 11.5 | 12 |
Socks
| Sock Size | S | M | L | XL |
| --- | --- | --- | --- | --- |
| US Shoe Size | 4-6 | 7-9 | 10-12 | 13+ |
| Specialized Euro Shoe Size | 36-39 | 40-42 | 43-45 | 46+ |
Mens Shorts, Bibs, Knickers & Tights
| Size | S | M | L | XL | XXL |
| --- | --- | --- | --- | --- | --- |
| Waist | 28-31" | 31-34" | 34-36" | 36-39" | 39-42" |
Mens Jerseys, Jackets & Vests
| Size | S | M | L | XL | XXL |
| --- | --- | --- | --- | --- | --- |
| Chest | 35-37.5" | 38-40.5" | 41-44.5" | 45-47.5" | 48-51" |
Mens Gloves
| Size | XS | S | M | L | XL | XXL |
| --- | --- | --- | --- | --- | --- | --- |
| Middle Finger Length | <7.6cm | 7.6-8cm | 8.1-8.6cm | 8.6-9cm | 9-9.4cm | >9.4cm |
| Palm Length | <10.8cm | 10.8-11.1cm | 11.1-11.3cm | 11.3-11.7cm | 11.7-12.1cm | >12.1cm |
| Thumb Length | <6.1cm | 6.1-6.4cm | 6.4-6.8cm | 6.8-7.1cm | 7.1-7.4cm | >7.4cm |
| Palm Circumference | <21.5cm | 21.5-22cm | 22-22.5cm | 22.5-23.5cm | 23.5 - 24.5cm | >24.5cm |
Womens Gloves
| Size | XS | S | M | L | XL | XXL |
| --- | --- | --- | --- | --- | --- | --- |
| Middle Finger Length | <6.4cm | 6.4-6.9cm | 6.9-7.4cm | 7.4-7.8cm | 7.8-8.4cm | >8.4cm |
| Palm Length | <9.3cm | 9.3-9.7cm | 9.7-10cm | 10-10.4cm | 10.4-10.8cm | >10.8cm |
| Thumb Length | <5.1cm | 5.1-5.4cm | 5.4-5.7cm | 5.7-6.1cm | 6.1-6.5cm | >6.5cm |
| Palm Circumference | <17.5cm | 17.5-18.5cm | 18.5-19.5cm | 19.5-20.5cm | 20.5-21.5cm | >21.5cm |