Clothing Jackets - Mens
Sportful Hot Pack Easylight Jacket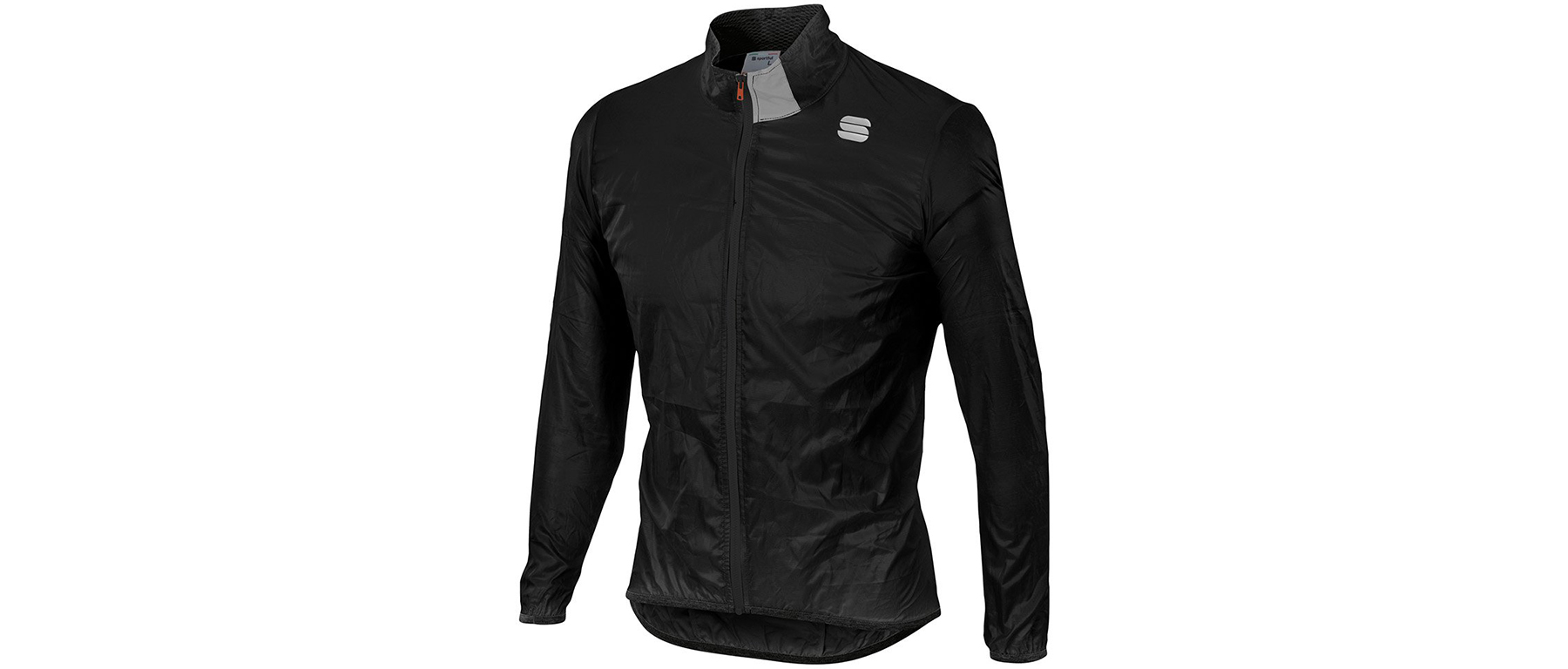 As you would expect from a Sportful Hot Pack Series jacket, the Hot Pack Easylight Jacket is light and totally packable, yet offers superior protection from the elements compared with other jackets in its class. This garment falls somewhere in the rain jacket - wind breaker hybrid category. For this reason, combined with the right price point, it is one of our best sellers.
The magic of the Easylight is found in the specific knitting technique and a treatment. The jacket is composed of fine threads that are woven very tight. This technique offers breathability with protection. The fine thread keeps the weight to a scant 79 grams. The jacket is then treated with Sportful's proprietary Schoeller Nanosphere coating. This treatment takes the water and wind resistance up to the next level which allows the Hot pack 5 to perform and protect in nasty conditions.
This Italian made garment is form fitted and anatomical. This means you will not get bunching or gathering that is common with this type of jacket. The arms and rear panel is slightly longer cut (which we always prefer) for added protection and coverage. The graphics are beautifully simple. The rear pocket also doubles as a compression pocket in which the jacket can be rolled into for storage.
Features
Water repellent and windproof light fabric
Tight knit weave
Lightweight packable protection
Simple and beautiful graphics
Anatomic fit with slightly longer arms
Weight: 79 grams (Medium)
Made in Italy
Mens Shorts, Bibs, Knickers & Tights
| Size | S | M | L | XL | XXL | XXXL |
| --- | --- | --- | --- | --- | --- | --- |
| Waist | 27-29" | 29-31" | 31-33" | 33-35" | 35-37" | 37"+ |
Mens Jerseys, Jackets & Vests
| Size | S | M | L | XL | XXL | XXXL |
| --- | --- | --- | --- | --- | --- | --- |
| Chest | 34-36" | 36-39" | 39-41" | 42-44" | 45-46" | 46"+ |
Womens Shorts, Bibs, Knickers & Tights
| Size | S | M | L |
| --- | --- | --- | --- |
| Hips | 33-36" | 36-38" | 38-40"+ |
Womens Jerseys, Jackets & Vests
| Size | S | M | L |
| --- | --- | --- | --- |
| Chest | 32-34" | 34-36" | 37-40" |
Gloves
| Size | S | M | L | XL |
| --- | --- | --- | --- | --- |
| Palm Circumference | 6-7" | 7-8" | 8-9" | 9-10" |
Mens Socks
| Size | S/M | L/XL | XXL |
| --- | --- | --- | --- |
| Mens | 4-7 | 8-10 | 11+ |
| Euro | 35-39 | 40-43 | 44-47 |
Womens Socks
| Size | S/M | L/XL | XXL |
| --- | --- | --- | --- |
| Womens | 5-7 | 8-10 | 11.5+ |