Gravel Brake Levers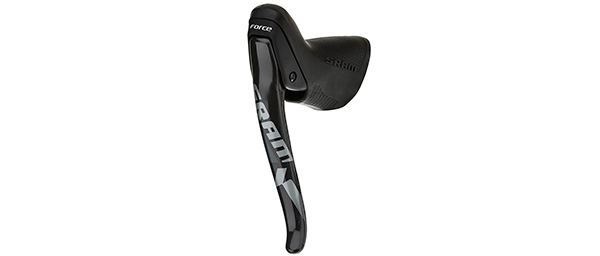 Force 1 Left Rim Brake Lever
Excel Sports Part # 119564
SRAM Part #
00.5218.005.000
Request Stock Alert
Description
The SRAM Force CX1 Ergodynamic Left Lever has no shift paddle and weighs just 119 grams saving about 40 grams over a lever with shift internals. It is designed to work with a cable (mechanically) actuated brake and is part of SRAM's CX1 1x11 group.
A very refined shape is bred from the flagship Red levers. The ErgoFit textured hood with a reduced body diameter improves grip and finger wrap for better control. More control and lighter weight is no doubt a good thing.
SRAM's Force CX1 is the only true dedicated single chainring cyclocross system. It is the common sense result of SRAM's mega successful XX1 mountain bike group. Everything good about XX1 is transferred to Force CX1. The single ring, 11-speed drive train is lighter thanks largely to no left shifter and shift cable, front derailleur and only one chainring. CX1 is simpler and tougher. It has a clean look an optimal gear selection. Shifting is very fast and smoother but perhaps best of all, the possibility of chain drop has been virtually eliminated.
Return to Top
Features
119 grams - saves about 40 grams over a lever with shift internals
ErgoFit textured body improves grip and finger wrap
Reach Adjust allows you to perfectly set lever reach
For mechanical rim brakes
Return to Top