Road SRAM eTap Kits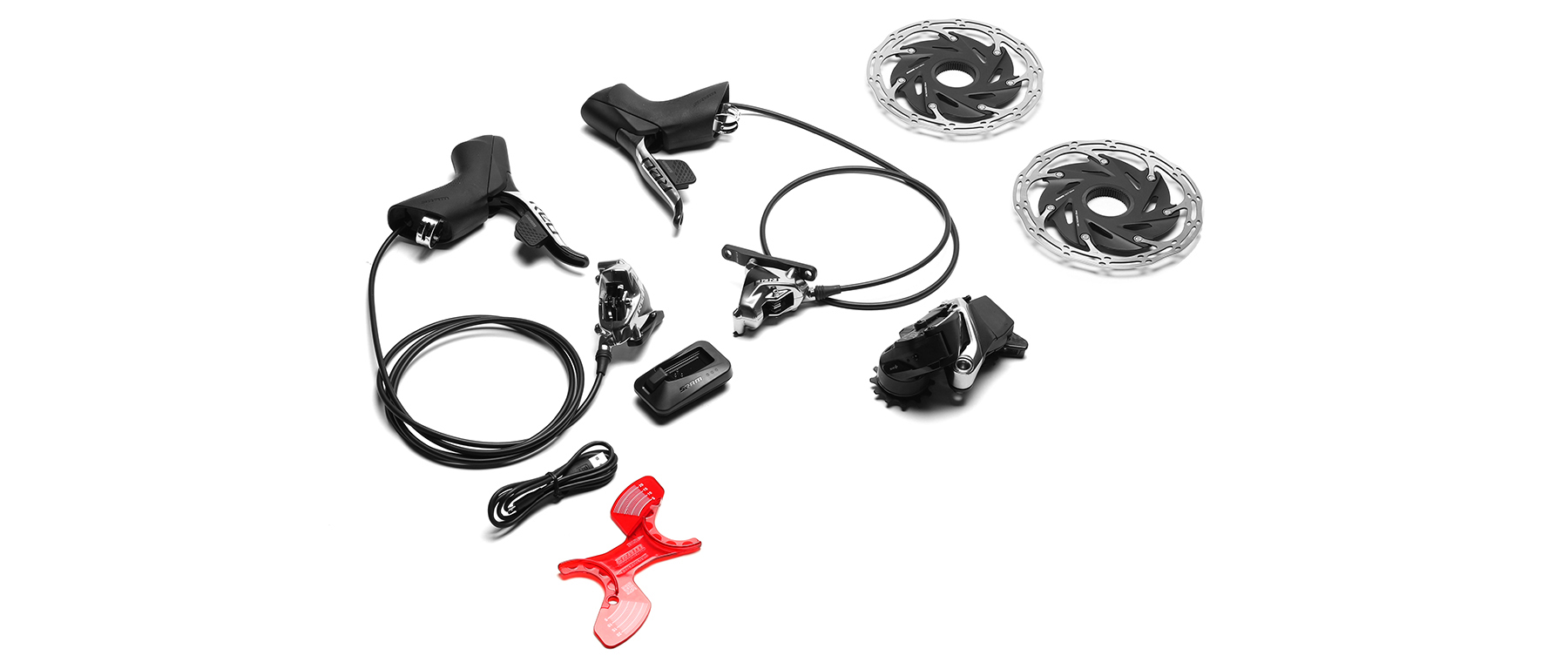 Red eTap AXS HRD Electronic Group 1x
Excel Sports Part # 000119
SRAM Part #
00.7918.078.009
Request Stock Alert
Description

Road riders are going beyond where we've ever gone before. SRAM is going further and faster in pursuit of the optimal drivetrain systems for this new cycling frontier, to push those boundaries without any distractions. eTap AXS™ was developed for today's riders. The result: an intuitive, high-performance drivetrain and shifting system that means you can focus on what's most important- the ride itself. Exploring new limits has never been easier. SRAM Red eTap AXS takes you Simply Beyond. When you see AXS, think access. Access to a new riding experience, and access via a new Bluetooth based communication process that links your smartphone via the AXS app to set-up, manage, and update your eTap AXS system.
This groupset includes the eTap AXS electronic components for a 1x or 2x setup in a single package for a Flat Mount disc brake frameset: hydraulic brake/shift lever pair, front and rear Flat Mount disc calipers, 160mm Center Lock style disc rotors, eTap AXS front and rear derailleurs, battery, charger and cord, and Quick Start Guide. The CR2032 battery powered Red eTap AXS HRD Brake/Shift Lever System features simple and intuitive eTap shift logic and is AXS enabled for easy personalization via the App. The advanced HydroHC braking set-up includes two-piece calipers for a more positive feel, with straightforward service points.
The Red eTap AXS front derailleur (2x only) features the expected, exceptional SRAM Yaw trim-less cage technology, with an optimized cage profile for the new Red AXS front chainring combinations, and is compatible with existing eTap batteries, though the battery placement on the front derailleur has been streamlined to allow for more rear tire clearance. The Red eTap AXS rear derailleur features new Orbit chain management technology to keep the Flattop AXs chain driven drivetrain quiet and secure, and is also enabled with SRAM AXS for easy personalization and battery management. The new rear derailleur includes optimized motor and signal travel for faster shifting, and is also compatible with existing eTap batteries.
Keep in mind this groupset is limited to the shift and braking system components. To complete your groupset, purchase you'll need a Red AXS Crankset, DUB bottom bracket, XG-1290 12s cassette, and the AXS 12s Flattop chain. SRAM RED eTap AXS groupsets require SRAM XDR compatible rear wheel/hub drivers (not XD, XDR is 1.85mm longer than XD). This is a packaged item created by SRAM. No substitutions or returns/exchanges of individual parts are allowed.
Return to Top
Features
Packaged Red eTap AXS 1x or 2x Electronic Groupset w/ Hydraulic Flat mount brakes
eTap AXS 12-speed shifting is faster, smoother, and more precise
eTap AXS App allows you to control, manage, set-up, and update all eTap component via BLE, including battery monitor for each as well
New shift mode, set-up options, as well as ability to control other devices, like a Reverb AXS dropper post (yes, we see gravel/adventure bikes with droppers now)
Includes:

Red eTap AXS HRD L/R Brake/Shifters with Flat Mount Calipers, 160mm Center Lock style rotors (Left 523g, Right 531g as pre-bled assembly)
Red eTap AXS Front Derailleur w/ Battery (174g) [2x option only]
Red eTap AXS Rear Derailleur w/ Battery (306g)
Battery Charger and Cord

You still need to purchase appropriate Red AXS: crankset, BB, chain, cassette
Note: *Red AXS cassettes only compatible with SRAM XDR freehub drivers*
No substitutions or returns/exchanges of individual parts are allowed
Choose from: 1x or 2x
SRAM Part#'s 00.7918.078.010 (CL), 00.7918.078.004 (6-Bolt)
Return to Top