Accessories Computers & GPS Head Units
Stages Dash M50 Cycling Computer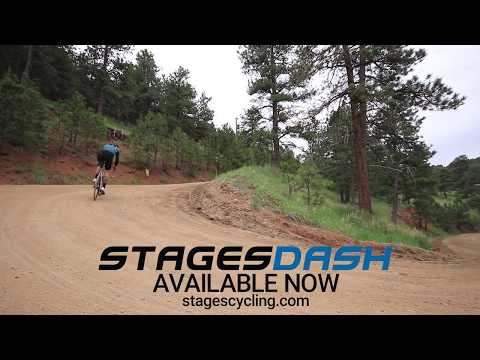 The prime choice in the Stages Dash line-up is the mid-sized Dash M50. With all the capabilities and features of the larger L50, the M50 will suit almost every cyclist and be ideal for weight conscious racing-types. How many of you have longed for a GPS cycling computer that is mounted, viewed, operated and managed from a cyclists' perspective? What if it also had the best training features available, with simple upload/download transfer procedures? The unit must also be made with quality materials, have a user friendly app, and be future-proof from a firmware perspective. With the Dash M50, Stages has not only built a head unit with features and technology to win you over, but also created perhaps the most cyclist-friendly model on the market. We believe you'll love the ergonomics, buttons, screen, maps, use of color indicators for quick visual reference, and the clean secure mount system.
The Stages Dash M50 was developed, designed, and tested by the cyclists that work at Stages and their accomplished group of cycling friends here in Boulder. As such, considerable care was given to how the rider interacts with a head unit as they ride. As opposed to long, exposed out front style mounts, the Stages mounting system brings the unit up to the bar, with a solid feel and sure connection. The unit is close at hand and you can set the angle you prefer, as well as a portrait or landscape layout. The button layout is simple and intuitive in either layout, though it is designed for right handedness. With the physical set-up nailed, the focus turns to the EverBrite color screen of the Dash M50. This 58mm (2.25", diagonal) low power, high resolution screen with backlight has adjustable brightness, an auto dim mode and night mode, which has a black background. The images and colors are sharp and defined, even in sunlight and works well with most optically enhanced sunglass lenses short of true polarization. The battery life is up to to 12.5 hours real world runtime (with GPS, live recording) with the backlight at 30% screen brightness.
The user-friendly characteristics carry forward into the user interface, with a fully customizable layout. Initial Dash setup can be handled via the Stages Link app from your smartphone or on the Dash unit itself, with much to choose from: landscape or portrait mode, user defined profiles, preset and custom screen layouts and contents with up to 16 data fields per screen. The use of colors for quick reference and key information is very effective; for example the color-coded power and HR zones and interval progress graph. Just a quick change of eye-level with minimal effort to identify where you are physically as you train. You get everything you need and want: advanced power metrics including TSS, IF and Normalized Power; FTP and heart rate zone estimator and on-unit power meter management (pair, zero reset, view battery status). The Dash M50 is preloaded with workouts; more can be added via .FIT files from Stages LINK or 3rd party apps, as well as a Training Calendar and advanced analytics available via the free Stages LINK app. File and transfer wise, you can easily work with .FIT, .GPX, and .TCX files. Data transfer can be handled via USB or Bluetooth and the Stages LINK app pairs with Dash for ride file downloads, detailed analysis-ride history, and pushes to 3rd party apps like Strava, TrainingPeaks and more.
For GPS and mapping features, Stages utilizes a comprehensive Satellite Network: GPS and QZSS with SBAS (WAAS, EGNOS, MSAS, and GAGAN) fast connection. The Dash M50 can utilize GPS based current, average and max speed, distance, and ride/lap time with auto start/stop. Of course you can also rely on a connected speed sensor as well. The unit is preloaded with base maps (North America) with additional regions available for free download (15gb). You have Turn-by-Turn course navigation with on-screen notifications and audio alerts, along with Points of Interest including bike shops, cafes, pubs, gas stations and rest stops. Cycling specific OSM-based with color coded roads, bike routes, paths and trails make life on the bike simpler and safer. A free custom course builder via Stages Link including user-defined points of interest (city limit signs, etc) is easy to use and transfer. The GPS system (and barometric altimeter) allows for course climbing/elevation profile including progress and color-coded percent grade.
Of course this a smart cycling computer and the Stages Link App offers a great interface with your phone's operating system (iOS or Android). You can push smart notifications at your choice. Audio and/or visual alerts are also user selectable for all features. Communication wise the Dash M50 offers Bluetooth LE, USB, and ANT+. The unit has internal temperature recording, is ANT+ and Bluetooth HR strap, Speed/cadence sensor compatible, and Power Meter compatible. Stages is using a stable and reliable rechargeable LiPo battery that is charged with a USB cord from the unit. The secure Dash mounting system includes aluminum bar mounts, and the standard 31.8mm road bar out front (but close to stem) version is included with the unit, while a comprehensive series of other mount styles are sold separately. All documentation is provided, though the Stages Link App is very friendly and easy to use.
We are extremely impressed with the Stages Dash M50 and gratified Stages took extra time to ensure it was fully up to the task. Much was learned about hardware capabilities and user experience with the initial Dash, and we feel now Stages has the system well in hand. You will be able to fully focus your energy on the training and data, and not on complicated or step driven interfaces. The Dash M50 provides interaction and collaboration that will enhance your cycling experience.
Features
Full featured, mid-size GPS cycling computer w/ color screen, mapping, connectivity
Optimized for the cycling experience with layout, set-up, ergonomics, options
Quality construction and case with aluminum mount and mount interface system
GPS and QZSS w/ SBAS (WAAS, EGNOS, MSAS, and GAGAN) fast connection
BLE, ANT+, and USB; data transfer- Sync rides, workouts via BLE or USB
Fully supported for set-up, use, transfer, smart notifications via Stage Link App
Stages EverBrite™ 2.25" full color, high resolution screen with backlight, user-selectable brightness and auto dim mode, w/ Night Mode (black background)
Intuitive menu-based screens for easy setup via Stages Link app on phone or Dash
Cycling-specific OSM-based with color coded roads, bike routes, paths, trails; POI
Follow courses in .FIT, .GPX or .TCX file formats
Free custom course builder via Stages Link including user-defined points of interest
Turn-by-Turn course navigation with on-screen notifications and audio alerts
Preloaded with base maps (North America), additional regions available for free download
Course climbing/elevation profile including progress and color-coded percent grade
Fully featured and connected powermeter application and metrics
Free Stages LINK app pairs with Dash for ride file downloads, detailed analysis and ride history and pushes to 3rd party apps including Strava, TrainingPeaks, etc
ANT+ control for Garmin Radar and most ANT+ bike lights
IPX7 waterproof rating
Rechargeable LiPo battery with 12.5 hour run time in real life use
Dimensions: 51mm wide x 78mm tall x 24mm depth (portrait)
Lightweight aluminum (22g) low profile 31.8mm out-front bar mount included
Includes: USB cable, leash, Torx wrench, documentation
Color: Black/Aluminum
Weight: 94 grams