Travel & Storage Car Travel Systems
Thule T2 Pro XT 2-Bike Add-On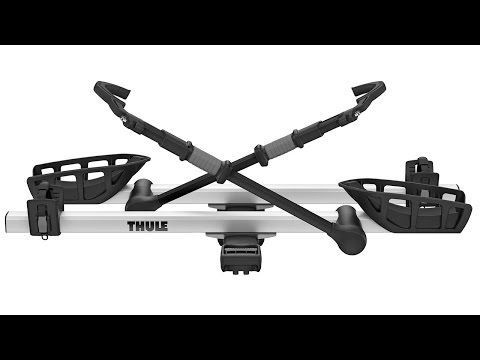 The updated Thule T2 Pro XTR 2"
receiver rack comes standard with two bike capacity. This Thule T2 Pro XT 2- bikee add on allows you to double the capacity to four bikes. It is not a stand-alone item, and it is only designed for the proper base rack. Installation and set-up is pretty straightforward with the included instructions. When set-up as a 4 bike rack, the total weight capacity of the rack is 160lbs. While each bike carrier is rated to 60lbs, we recommend you load heavier bikes closer to the vehicle and be aware of the overall loaded weight.
One important note. The T2 Pro XT features 12" spacing between bikes, with 3" of side to side adjustment to avoid bike contact. This Add-On (Thule 9036XTB) unit offers only 11" of space from bike to bike, but still offers the 3" side to side adjustment on each carrier so you can still avoid most potential overlap. Otherwise the features are the same: the 5" wide tire capacity, ranging from 20"-29" tires, for bikes with a maximum wheelbase of 50.5", the adjustable front retention arm, integrated cable locks with Thule lock cores, and top notch quality construction.
Extending your base rack doesn't mean you lose features either. The same hitch Auto Attach system stays in place for fast and easy installation. The fold up/tilt away with front-mounted HitchSwitch lever gets moved from the end of the base rack to the end of the center beam of the Add-On, and the colorways match completely. Take family and friends out to your next ride by adding the Thule T2 Pro XT 2-bike Add on to your T2 Pro XTR Receiver rack.
Features
Upgrades T2 Pro XT with 2-bike add-on for four bike capacity
Increases overall weight capacity from 120 to 160lbs
Max individual bike carrier weight capacity: 60lbs
Recommend you mount heaviest bikes close to vehicle
11" spacing from tray to tray, with 3" side to side adjustment>
Carries bikes with tire sizes from 20-29" up to 5" wide tires
Max bike wheelbase: 50.5"; Wheel straps 18"
Integrated cable locks in each tray carrier for bike to rack security
Coded lock cores and keys included (will not match the base rack)
Maintains all other features as base rack when properly installed
When mounted to base rack, distance from center of hitch pin hole to:

Closest part of rack: 7"
Closest part of rack when folded: 5"
End of bike rack: 60-1/8"
End of bike rack when folded: 20-1/2"

Height of 2+2 4 bike set-up when folded up- from bottom beam to top of rack: 52.5"
Colors: Black,
Weight: Add-on only- 44lbs; when combined with base rack 96lbs