Accessories Trainers
KICKR SNAP Bike Trainer
Sold Out
Description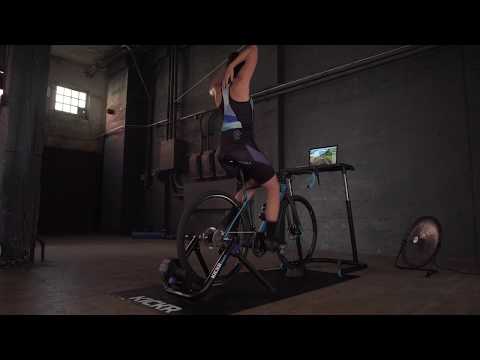 Updated in Fall 2017 to be compatible with the KICKR CLIMB system and feature new capabilities such as 3rd party power meter support, the KICKR SNAP is now the clear leader in wheel-on smart bike trainers. Wahoo's created the KICKR SNAP rear wheel-on trainer design to make it simple, direct and cost-effective to turn your road or mountain bike into an App-controlled smart training system. Weighing in at a solid 38 pounds, the Snap is made from heavy duty stainless steel. It has a wide stance that securely holds your bicycle allowing you to focus on your training session. Another strength of the KICKR SNAP is its amazingly realistic road feel thanks to burly construction and a 10.5 pound flywheel augmented by the electromagnetic resistance.
Because the KICKR SNAP is App or head unit controlled, you can choose from a virtual supermarket of training apps or pre-set workouts to get the best training possible. This means you will never have to settle for outdated, boring workouts again, and you can test yourself every session. Wahoo KICKR-seies smart trainers are future proof and allow you to use the latest, most scientifically up to date training regimens to produce maximum results with interesting workouts that keep you excited and engaged.
Just like the KICKR, the KICKR SNAP uses your smartphone, tablet or computer to control the resistance. The updated SNAP now provides a reliable power measurement with + / - 3% accuracy. High wattage specialists will appreciate the electromagnetic resistance capable of creating up to 1500 base watts. For comparison, the KICKR is capable of creating a massive 2000 watts of resistance, but most cyclists short of world class sprinters will never touch that.
Wireless compatibility is with ANT+, ANT+ FE-C and Bluetooth 4.0, and now the SNAP has LED indicator lights to clearly demonstrate your connectivity. Software updates are accomplished wirelessly with the Wahoo Utility App. Available metrics include Speed, distance and power. The KICKR SNAP does not directly support cadence.
Look, the KICKR is an amazing trainer with incredible capability, but the standard pricing is double what the KICKR SNAP sells for. Wahoo offers just two trainers, but is there really a need for another? Take a serious look at your actual needs and budget and make the best decision for yourself, but the KICKR SNAP crushes virtually all of the wheel-on competition, and will prepare you to do some crushing as well.
Return to Top
Features
Top option for rear wheel-on smart cycling trainer, compatible with KICKR CLIMB
Connectivity via ANT+, ANT+ FE-C, and Bluetooth Smart
Now with third party power meter support
ANT+ FE-C allows control from any FE-C enabled device or application, including Garmin bike computers and others with that capability
LED Indicator Lights confirm connectivity status
Works with iOS, Android, Windows, smartphones, tablets and laptops
Controlled resistance can be driven by head unit, or app driven
Metrics: Speed, Distance and Power
Reliable power/wattage measurement to +/- 3%
Rear wheel on design allows you to use your everyday wheel and cassette
10.5 pound high inertia flywheel with electromagnetic resistance
Open platform allows third party Apps for innovative training experiences
Max wattage: 1500w
Max simulated grade 12%
Hub Types: 130mm and 135mm Quick Release and 12x142 Thru-Axle with adapter
Compatible with 650c RD / 26" MTB / 700c RD / 650b MTB / 29" MTB
Power Requirements: 100-240V~1.5A 50-60 Hz, cord/transformer included
Includes: Front Wheel Block, Steel Quick Release skewer (up to 135mm)
Dimensions (legs open):29" x 26"
Weight: 38lbs
Does not directly support cadence metric
Return to Top