Accessories Trainers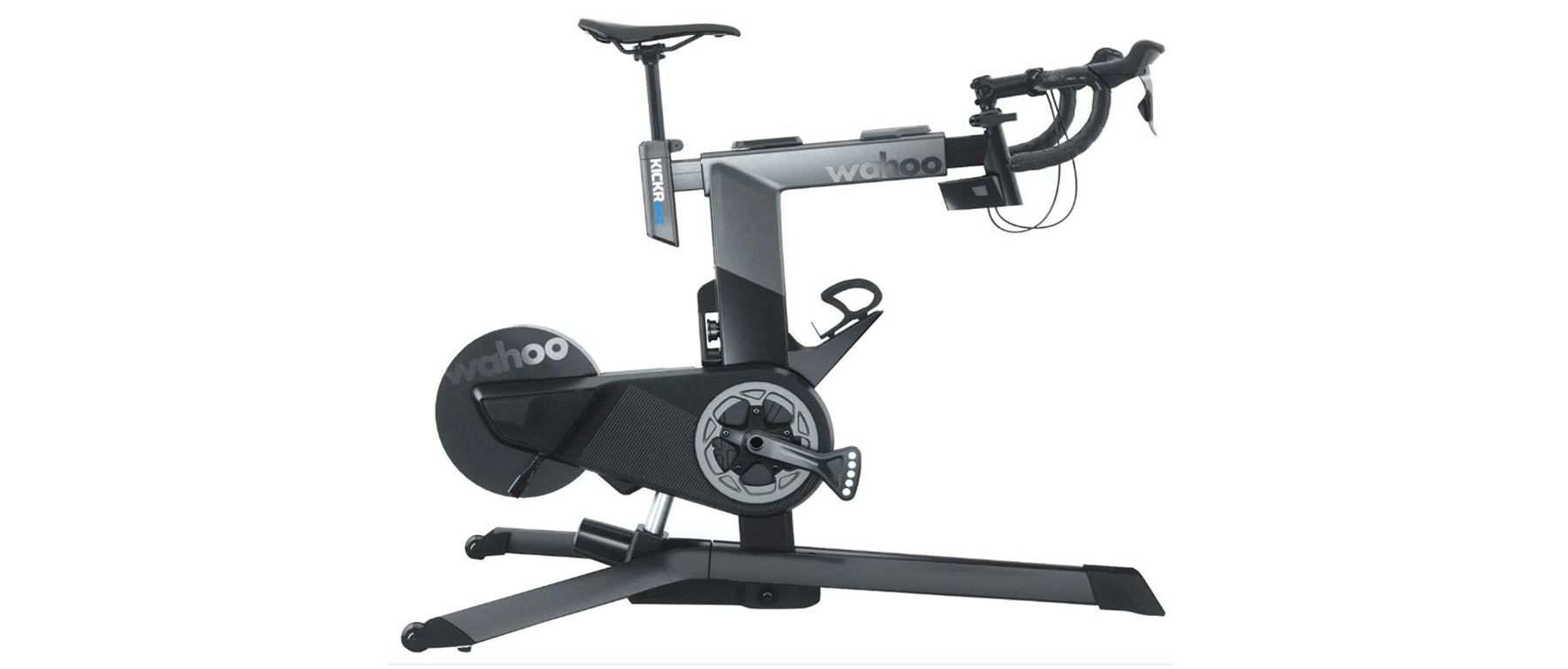 Description

Availability on the KICKR Bike V2 is limited. We only list ETA's when based on direct information, but that is always subject to change via Wahoo. Please call us at 800.627.6664 or email at sales@excelsports.com with any questions. This item may be eligible for shipping. Please be aware there will be an oversized shipping charge.
For late 2022 the KICKR Bike has been updated as the V2 model. While firmware updates have continually moved the1st version forward, and are baked into the V2, there are three important new features only available on the KICKR Bike V2. The first is actually two distinct pieces, but consider it under "better connectivity". The V2 now has the ethernet based Direct Connect jack. More significantly to more users, it also has true WiFi Connectivity. Wahoo has also added ERG Ramp Adjust for a faster smoother ramp up process in ERG mode, especially if you step off the bike for a brief minute to retrieve a bottle, remote, whatever. The final new feature is a true Odometer, which allows to fully track bike usage statistics over time, which can be helpful for maintenance or other questions about bike use. As an added bonus, KICKR Bike V2 was also upgraded from a rating of 2200 max watts to 2500 max. Taken altogether, these changes make it worth the wait for those who wanted to see how the first generation performed over time before making the substantial investment.
The success of Wahoo Fitness with the KICKR series trainers and ELEMNT bike computers has been driven by innovation and leveraging the smartphone app to make integration and set-up quick and easy. Combine that with the growth of Zwift, TrainerRoad, and numerous other app-based training platforms, and the move towards physical integration of the Wahoo family of products was natural. The KICKR BIKE V2 further advances the KICKR trainer concept, along with the integrated CLIMB for a truly inspiring and fully connected, unmatched indoor cycling experience .
Physically the KICKR BIKE V2 remains a true example of Wahoo's design spirit. Clean, evocative, and functional. The CLIMB system is built into the base, driving a piston like design that allows the bike to tilt up or down. It is the cleanest looking indoor bike ever, with a simple frame and integrated KICKR-style- but electromagnetically enhanced rear resistance unit. The large flywheel and internal motor brake use proven algorithms that offer an unrivaled combination of accuracy, responsiveness and realism, with a belt drive from the crankset for a virtually silent physical operation. The bike delivers accurate power measurement (+/- 1%), and now over 2,500 watts of resistance. KICKR Bike V2 provides cyclists with reliable data and power ranges for training on the most demanding races, routes and rides. The actuation for the CLIMB aspect smoothly and progressively simulates grade changes through a range from 20% up, and 15% down in real time, offering a virtual experience of riding up and over steep mountain passes, including downhill simulation that allows you to maintain bike speed.
The physical and technological capabilities of the KICKR Bike V2 are exciting on their own, but it is the ability to be connected and controlled by a course programmed head unit, 3rd party app or even combined with Apple TV that is driving the intense interest for pure cyclists and those who come more from a gym-fitness bike situation- as well as just about everyone in between. Coaching, training, massive online racing or competition- it is all here- for any level. You can connect via Direct Connect, WiFi, ANT+ or Bluetooth Smart. You can control functions from a head unit via ANT FE-C or Bluetooth Smart FTMS Control. There is multi-channel Bluetooth capability.
In lieu of more options, Wahoo developed shifters that can be programmed for use like your standard or electronic (Di2. eTap AXS, EPS) systems. A small display that sits to the right of the toptube is a small display that indicates gearing and grade. Wahoo has released the bike with a standard stem and handlebar, with aerobar options coming down the road. The crank arm system offers individual mounting positions for crank lengths of 165, 167.5, 170, 172.4, and 175mm. Pedals with wrench flats or axle Hex tool interfaces can easily be installed and removed. The fit system is very easy to use and manipulate, with clear markings and considerable adjustability. You can even save fit information in a guided App for precise recording. If you intend to share the KICKR BIKE, fit adjustments- even with pedal changes, can take less than five minutes. Wahoo considers user height range to be 5ft to 6ft 4in with body variation duly noted.
Many specific details are listed below, and Wahoo's website has comprehensive information. Wahoo has demonstrated the technical ability to keep vigilance regarding the app/software markets, as well as general technical advances that can be met through firmware updates. If you are already within the Wahoo Fitness eco-system of products, you are well aware of all this. Now it is time to train all out, indoors, with the KICKR Bike V2.
Return to Top
Features
Updated 2nd version Indoor training bike w/ full connectivity, App integration, KICKR/CLIMB features
Impressive, clean design with manageable footprint; easily set-up and used
Using intuitive set-up app, Wahoo has made it simple to match KICKR BIKE's fit to your outdoor bike's exact geometry
Easily adjusted, with clean markings for precise fit transfer and adjustments
Standard road stem/bar set-up with programmable simulated shifters, brakes
Small right side display gives you speed and grade readout
Allows customization of chainrings, cassette range, shifting preferences via App
Calibration free set-up and use
Maximum Power Wattage: 2500 W
Maximum Incline: 20% / Minimum Decline: -15%
Flywheel Weight: 13 lbs plus enhanced motor
Electrical Connection: 100-240v power cord (required for use)
LED Indicator Lights: WiFi, Bluetooth Low Energy and ANT+
Wahoo compatibility: KICKR HEADWIND, ELEMNT computers
Wireless Technology: WiFI, ANT+®, Bluetooth® Low Energy, ANT+ / ANT+ FE-C
Now has Wahoo's Direct Connect ethernet capability
Direct Connect RJ11 phone line port on bike, usable via Wahoo's Direct Connect RJ45 ethernet dongle/jack adapter (sold separately)
WiFi means Automatic firmware updates (always ready to go with the latest release)
WIFI provides significant range and stability increase vs. BT/ANT+ with Data transfer speeds up to 65% faster vs. standard BT/ANT+ transfer speeds
Device Control: iOS, Android, and PC (Mac and Windows)
Single USB port on front for device charging
Resistance Type: Electromagnetic and Enhanced Motor
Accuracy: + / - 1%
Wireless Firmware Updates: Yes (continual automatic access with WiFi connected
3rd Party Power Meter Compatibility: No
ERG Easy Ramp allows you to get off the bike and back on with a smooth transition to high wattage levels
Metrics: Speed, Distance, Power, Cadence, Grade
Crank length: 165, 167.5, 170, 172.5, 175 mm
Pedal spindles with internal Hex interfaces can be accessed from back side
Footprint (Length x Width): 48in x 30in
Standover Height Range: 37in to 47in
User height range: 5ft to 6ft 4in
Footprint (Length x Width): 48in x 30in
Total Weight: 93 lbs (rear wheels allow for safe moving on firm surfaces)
Oversized shipping charge will apply- call us at 800.627.6664 with questions
Return to Top