Accessories Trainers
Wahoo KICKR Smart Power Trainer DEMO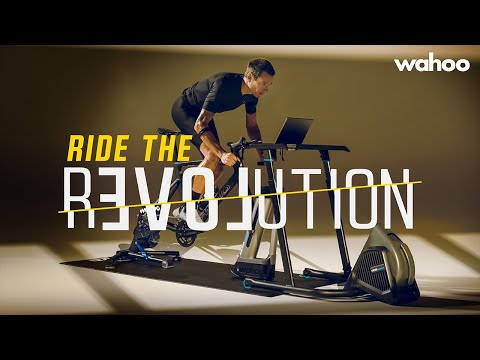 This item may have been used as a showroom display model or as a DEMO unit in our customer experience center. The item may show signs of light use, but is in otherwise excellent condition. Please call to speak with a member of our sales staff for further information on this item. Manufacturer warranty is still valid with this unit.
The Wahoo KICKR (v5) Smart Bike Trainer is widely recognized as one of the best indoor training devices available. The 5th generation of the KICKR has been released and the new unit is even more accurate (at +/-1%), Auto Calibration, and features KICKR AXIS: customizable cushioned feet that respond to movements from changes in tempo and body position, slightly mimicking the side-to-side movement experienced when riding outdoors. IN every other way, the features and capabilities of the KICKR carry over from the 4th generation. This is still one of the quietest smart trainers made, and it is still easy to use, store and transport, while offering premium connectivity, Wahoo and 3rd party App support, and full integration with the awesome KICKR CLIMB as well as the KICKR HEADWIND fan.
Power and feel are dictated by a combination of the physical 16lb flywheel and algorithms to improve responsiveness and better replicate the sensation of riding on the road. So, whether free-riding or using online platforms like Zwift and Trainer Road, you will have the same experience you feel on your favorite outdoor rides. Power is rated at up to 2200w, with a 20% grade, and that +/1% accuracy. You can control power via ERG mode or via Apps or ELEMNT-series GPS head units. The ANT FE-C trainer control capability means you can also manually control via most ANT+ GPS head units as well.
Out of the box, the KICKR is minutes from use and features integrated cadence measurement, a pre-installed 11-speed cassette (Shim/SRAM 11-28 type), a convenient carrying handle, and a tire size height adjustment to ensure you're up and riding as quickly as possible. Plug in the AC power cord, mount up your bike with the proper QR or thru-axle set-up, establish connectivity for Bluetooth Smart and ANT+ via on unit dedicated LED indicators, and get pedaling. With the Automatic Calibration of the 5th gen the KICKR is now even easier to use with less time or fuss to get started.
The KICKR is super stable, and with the 4th gen we saw incredible gains in overall durability, build quality and reliability that will carry over. While using Wahoo's full eco-system of products makes for the cleanest and smoothest interaction, it is fully compatible with ANT+, BLE, and ANT FE-C so working with most of today's products and App's is a breeze. If you choose to purchase a KICKR CLIMB you can enjoy automatic or manual smooth front end changes from 20% uphill to 10% downhill (with most bike/frame designs) and really engage more with your indoor cycling experience while mimicking the weight shifts and pressure points you activate when riding outside. Now the KICKR AXIS foot system adds slight side to side action as well, all aiding and benefiting your body in ways that static training systems simply can't. This is subtle, but real, though use of a soft trainer mat may limit how you experience it. That system is available separately to adapt older KICKR versions as well. The KICKR HEADWIND integrated fan system may seem like a luxury add-on, but once you get used to the fact that this reasonably quiet fan automatically reacts to your output levels as you train, it can be hard to ride without it.
While we carry many great smart trainer options, the KICKR has been the best selling model we carry for several years. Buyers routinely praise the quality, the ease of use, the consistent, accurate power, quiet-ness, and overall experience. For many cyclists who have moved into integrating with Apps for training, racing, and social interaction, it is clear that Wahoo's technical focus on these experiences from day one has kept the KICKR a step ahead. While no product is perfect for everybody, Wahoo has made it hard to choose anything but a KICKR.
Features
DEMO or Display Unit-may have light blemishes or signs of use
Updated (Winter '20'-21) KICKRv5 that is even more accurate, has new features
Features KICKR AXIS- customizable feet allows movement to mimic subtle side-to-side movement
Designed to be fully compatible with KICK'R CLIMB and HEADWIND systems
Rated to 2200 max watts, capable of simulating max 20% grade
Power required for resistance, control- can be used in ERG mode/app controlled
Virtually silent during use while pedaling, limited freewheel sound otherwise
Connectivity for Bluetooth Smart and ANT+ via dedicated LED indicators
Overall accuracy to 1%, improved power curve for faster response
Firmware update v4.1.1 Dec '20 corrected for low flywheel speed power issues
Ergonomic carry handle centers and balances unit for greater control
Wide stance trainer is very stable, requires no assembly out of the box
Requires AC power: 100-240V~1.5A 50-60 Hz; has cable/power black with quick release tail connection from unit that prevents damage if tripped over
Magnetic resistance with 16lb flywheel
Third party power meter and training app control
Connectivity: Bluetooth Smart, ANT+, ANT+ FE-C enabled device control, Bluetooth FTMS support, ANT+ and multi-channel BLE Power Meter control with speed/cadence; supports ANT+ Legacy Wahoo (older apps)
Direct Connect: KICKRv5 has an RJ11 phone line port, usable via Wahoo Direct Connect RJ45 ethernet dongle/jack adapter with break-away connection inline for direct communication to some network for Apps- contingent on App maker compatibility (Direct Connect adapter released Jan '21, v4.2.1 firmware enabled same time)
Compatible with IOS, Android and Windows
Wireless firmware updates to unit: As always, update the firmware on arrival, keep current with updates
Cadence broadcasts from trainer
Temperature compensation; Automatic Calibration (can still manually spin down, but KICKR will adapt)
Directly controllable via Sufferfest and ELEMNT GPS apps
Easy App use/integration including Wahoo Fitness, Zwift, TrainerRoad, etc
Wheel Sizes/Dropouts: 24" / 650c / 26" / 27.5"/ 29" / 130mm, 135mm QR, 12/142 &12/148mm TA
Easy-to-adjust height based on front wheel size (no wheel block required)
Steel frame, Aluminum fixtures, Gates Carbon Belt, easy to identify and use fitments
Dimensions: Open 21" x 28" (54 cm x 71 cm), Closed 21" x 9" (54 cm x 23 cm)
In box: KICKR, AC Adapter, 11-spd 11-28 Shimano/SRAM cassette (installed), steel Skewer, all hub/TA adapters
Wahoo# WFBKTR120
Weight: 47 lbs