Travel & Storage Bike Travel Cases
Description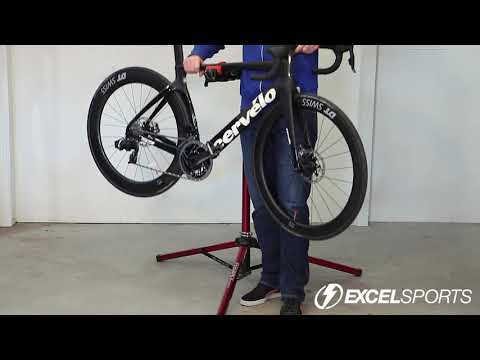 With the specific shapes and integrated systems of many bikes today, the challenges of shipping a complete bicycle that can only be broken down and boxed in a very limited way pushed us to seek a new, safer, and better solution. Enter the Excel Sports Ready to Ride Bicycle Shipment, which can ensure that most road, cross, tri, and some gravel bikes can be shipped complete. With only the front wheel and seatpost removed, this system requires the absolute minimum effort for you to be Ready to Ride. The bar and stem stay connected and set-up. With so many internal routing systems that start at the levers and come through the bar, stem, fork, and frame, this is truly the best option.
Originally designed around the Cervelo S5 complete bike with it's fully integrated handlebar stem and wiring system, the box is capable of safely and securely holding the bike as described. The photos and attached video offer excellent reference. Our substantially large box is a 5-ply, double corrugated wall set-up, which is the same grade, high quality box we have used in bike shipping for decades. With the rear wheel and fork stabilized, and the top support in place, a road bike doesn't make contact with sides, front, rear, or top of the box. The bottom is reinforced at the lower contact points. In some cases, with gravel and tri bikes in particular, as well as larger sizes of many bikes, we will need to assess fit, and it in some cases it is possible bars will need to be rotated down, but not removed. If we don't believe the bike will be safe, we will contact you, and will not ship using this method. Please keep in mind that flared gravel bars with max width of about 50cm will be the feasible max width.
Our goal with this Ready to Ride Shipment option is to be able to safely ship bikes that we cannot easily or safely break down. We acknowledge it may not be available for every bike, and encourage you to contact us with any questions before selecting the option. Please be aware we will not pack any other items in the Ready to Ride box with your bike. Any other ordered items will be shipped separately. We look forward to delivering your bike to you safely and Ready to Ride.
UPS Ground is the shipping method for the 48 continental United States. The $389 is a fixed price for this service regardless of weight or 48 state location. There is a possibility of air service via FedEx, but that will need to be assessed and priced on a per case basis. Please keep in mind this a very large box, and may not be feasible for offices, apartments, or other residences with limited access.
Return to Top
Features
Shipping option for road and other similar bikes, optimized for those that cannot be safely and easily disassembled for shipping in a normal bike box
Please see our RTR video on this page
UPS Ground Service to the US48, for the listed price regardless of weight/destination
Bike comes with seatpost (with saddle) and front wheel removed
Any road/gravel fork axle system can be accommodated
The top, inner box "tray" fully stabilizes the bike with the fork block and rear wheel cutout
There is absolute minimum non-recyclable waste with this box system
We can generally fit most road, cross, and tri bikes in this box, plus some gravel bikes
Please contact us with any questions or discuss any necessary details
The custom box is made with 5-ply double wall corrugated material
External dimensions: 63" x 21" x 29"
Return to Top