Tools & Maintenance Chain Tools
Description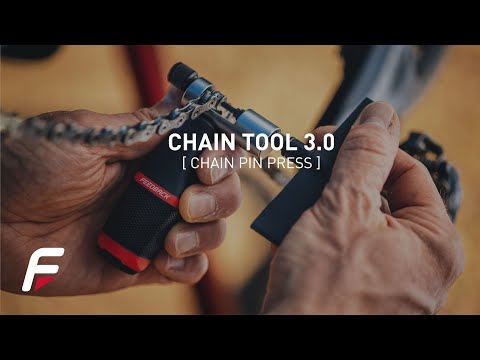 Every mechanic, no matter what level, needs a shop quality chain tool. Removing links and pressing in new pins requires precision. Feedback Sports knows this to be true, and they know you don't need to spend $50 to get one. Keeping in line with the guiding principles behind their tool line, Feedback delivers their Chain Tool 3.0 with pro quality, efficient proper function, durability, and ease of use. The tool has a compact profile, taking up less space in a toolbox, drawer or roll, and offers some unique features that make your life easier when working with chain tool related tasks.
Designed for 1-12 speed SRAM/Shimano type chains (including SRAM AXS Flattop), as well as Campagnolo 13-speed, the body of the Chain Tool 3.0 has a great feel, zero flex, and precise drive pin alignment. High quality construction and tool steel means the tool is ready and fully built for daily shop use. What is different, other than general design features, the 3.0 has a threaded lower insert that allows to place the chain in the tool, then bring the lower plate to reach up to the proper and definitive width of the chain, which keeps it perfectly aligned while driving chain pins in, or out. It most other tools the chain has too much freedom to move slightly, and with today's thinner chains, precision is required for optimal safety.
The threaded steel drive shaft culminates in a flat wide handle that has been covered in hard rubber. Both sides of the handle feature a file tread rubber section that helps you maintain grip and control, even when your hands are covered with Shimano's lovely packing goo (two free tips: always wear gloves when handling fresh chains, and always wipe clean- don't soak and strip, Shimano chains before applying the desired lubricant). You get plenty of leverage and feel from the screw handle so you will know the progress of the pin, whether driving out, or driving in. Just a note on the drive pin itself: it is replaceable and available- in fact one spare comes loaded into the removable knob at the handle.
There is no single tool more important to rider safety than a precision chain tool. That goes for any chain system. Even driving pins out to remove links can cause damage to the thin wall link plates. You need to drive the pin out straight and true. With older Shimano chains largely featuring replacement pins, not 11 or 12 speed quick links, driving the new pin to the proper depth is crucial. With a great chain tool (and smart pin design from Shimano) can feel that process and trust in it. Campagnolo now uses a link for their 13-speed Ekar chain, so you don't need to peen a pin after installing it, but for 8-12 speed Campagnolo chains, driving AND peening the chain pin is required. The Feedback Sports Chain Tool 3.0 does not have a peening device, so while you can certainly break a Campagnolo 8-12 speed chain with it, you will still need a Campagnolo compatible peening tool.
You will quickly come to love the feel of the Chain Tool 3.0, as well as the the updated lower adjustable plate system for more effective chain positioning and control. Then you will come to appreciate the precision, use after use. If you travel with your tools for team use, event service, or are just the responsible guy at the trailhead parking lot with tools on-hand, and you need a new chain tool, we highly recommend this chain tool.
Return to Top
Features
Pro-level chain tool with efficient practicality and precise driving action
Compatible for 1-12 speed chains from KMC/SRAM (including Flattop)/Shimano
Can drive 8-13 speed Campagnolo pins, but does not have required peening device
Threaded steel drive shaft drives slowly, effectively
Adjustable lower thread bolt with a surface plate ensures you have any size chain in proper position
Oversized firm rubber handle with file tread grip zones for sure-handling, usage
Made from cast and machined CRV tool steel with heft and secure feel
Replaceable drive pin located in removable knob at end of handle, but if you need or want another, Feedback Part # 17282 is the proper model
Great tool for Pro, shop, travel and home use
Limited Lifetime Warranty from Feedback Sports
Color: Black/Red/Silver
Return to Top