Tools & Maintenance Tool Kits
Team Edition Tool Kit
Excel Sports Part # 520500
Feedback Sports Part #
17094
Request Stock Alert
Description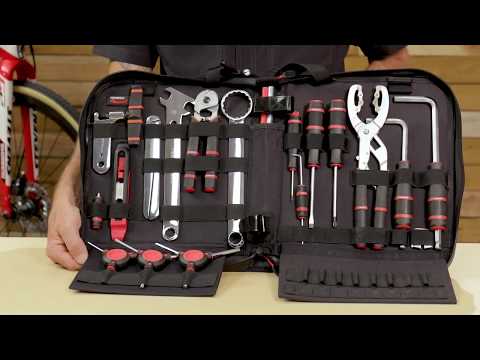 have you ever traveled with tools to a race, event, or even just a serious group trail ride? If you are like most of us, you probably tramp around with at least one hard tool box, which may nor may not have all the tools you need, but is likely have several you don't. "Why is there an ISIS bottom bracket tool in here?" Metal or molded tool boxes are heavy, rigid and bulky, and every time you lug it tools rattle around. And again, like us, you swear you are going to do something about this situation before your next trip. That scenario is the true inspiration behind Feedback Sports tool and tool kit line. Collaborating with Pro race mechanics, like those from Tinkoff, who used Feedback's premium portable workstands and storage solutions, Feedback set out to develop tools that not only met professional mechanic's standards, but were also compact, complementary, dual-purpose if feasible and reasonable. The goal was always to build a comprehensive Team Edition Tool Kit that could legitimately meet 90% of the needs of Pro team mechanics, yet wouldn't be out of place in your LBS or used at your home work bench. On top of all that, it needed to be portable, not bulky and manageable for easy travel, quick set-up, and ready to use. This is it, the Team Edition Tool Kit from Feedback Sports.
All of Feedback's tools are designed and built for professional use and are largely inspired and informed by Pro cycling team mechanic use. You get all the function, comfort, precision and durability you expect from pro-level tools. While of the tools are clearly innovative, others compete with the best of existing options. Hex key style tools are made from S2 tool steel, which is hard, strong and holds tool edges well in the face of daily shop use. Tools with firm rubber grips have molded file tread patterns for extra grip and comfortable, tactile use. Designs are clean, easy to use, and very efficient. Our guess is the Chain Pin Press, Cassette Plier and Valve Core Tool will be instant favorites for sheer pleasure to use versus other options. Every tool in this kit is clearly defined, with sizes marked, and ready to go in this cleverly organized, 13" x 11" x 2.25", semi-soft TPU-coated nylon case. And the whole deal weighs just under 10lbs. Not good enough for you? The case, opened, with tools at the ready, attaches quickly and hangs easily to your Feedback workstand, and there is an additional tool org section that you can equip as you see fit.
The pictures give you a great visual, and all the tools are listed below. You get 19 tools, that feature a total of 25 actual functions. All are essential and effective for mountain or road use. Of course you can customize with a few specific tools you may require, removing some you may not. Personalize it. After all, once you own it, it is yours, but take the time to appreciate how Feedback put this kit together, and carry only what you need. This tool kit is truly far more valuable than some of the competition's comparably priced tool sets. You get premium quality tools, and leave out the filler that just adds weight and confusion. If you are minimalist, who can truly scale back strictly to your needs, we can see this Team Edition Tool Kit, with a few select additions, serving as your sole tool set for your cycling needs.
Return to Top
Features
Compact, Pro-level Team Edition Tool Kit for event, travel, shop or home use
Includes 19 tools that offer 25 functions
All tools designed and built for professional use with precision and durability
Tools feel great in the hand, by design and materials, file tread grip on handles
TPU-coated nylon case is semi-soft, with carefully laid out tool storage system
Tools included:

Fixed 3-way TORX T25/27/30
Fixed 3-way Hex 2/2.5/3mm
Fixed 3-way Hex 4/5/6mm
L-handle Hex 8mm
L-handle Hex 10mm
#0 Phillips Screwdriver, with butt end of handle a Shimano Crank arm cap tool
#2 Phillips Screwdriver
6mm Flat head Screwdriver
Valve Core Tool with ends for Presta and Schrader valves
Spoke Wrench: 3.23mm (0.127"), 3.3mm (0.130"), 3.45mm (0.136") nipple sizes, Valve Extender tool integrated with design
Chain Pin Press (chain tool for 1-12 speed SRAM/Shimano-type chains)
Rotor Truing Tool
Steel core Tire Levers, features a Disc Brake Pad Spreader
15mm Pedal Wrench with 15mm Axle Nut Wrench at opposite end
16 Notch/44mm OD External BB Wrench with 12 Spline/23.4mm Cassette Lockring Wrench for Shimano/SRAM style lockrings
Cassette Pliers
Cable Cutter with Cable-end Crimper
Dual Sided Pick 90°/ Straight
TPU coated nylon case specific to this set, can be hung from workstand

Tool colors: Finished steel, Red/Black handles
Case color: Black
Case dimensions/weight: 13" x 11" x 2.25" / 9.8 lbs (fully equipped with listed tools)
Limited Lifetime Warranty from Feedback Sports
Return to Top