Nutrition Supplements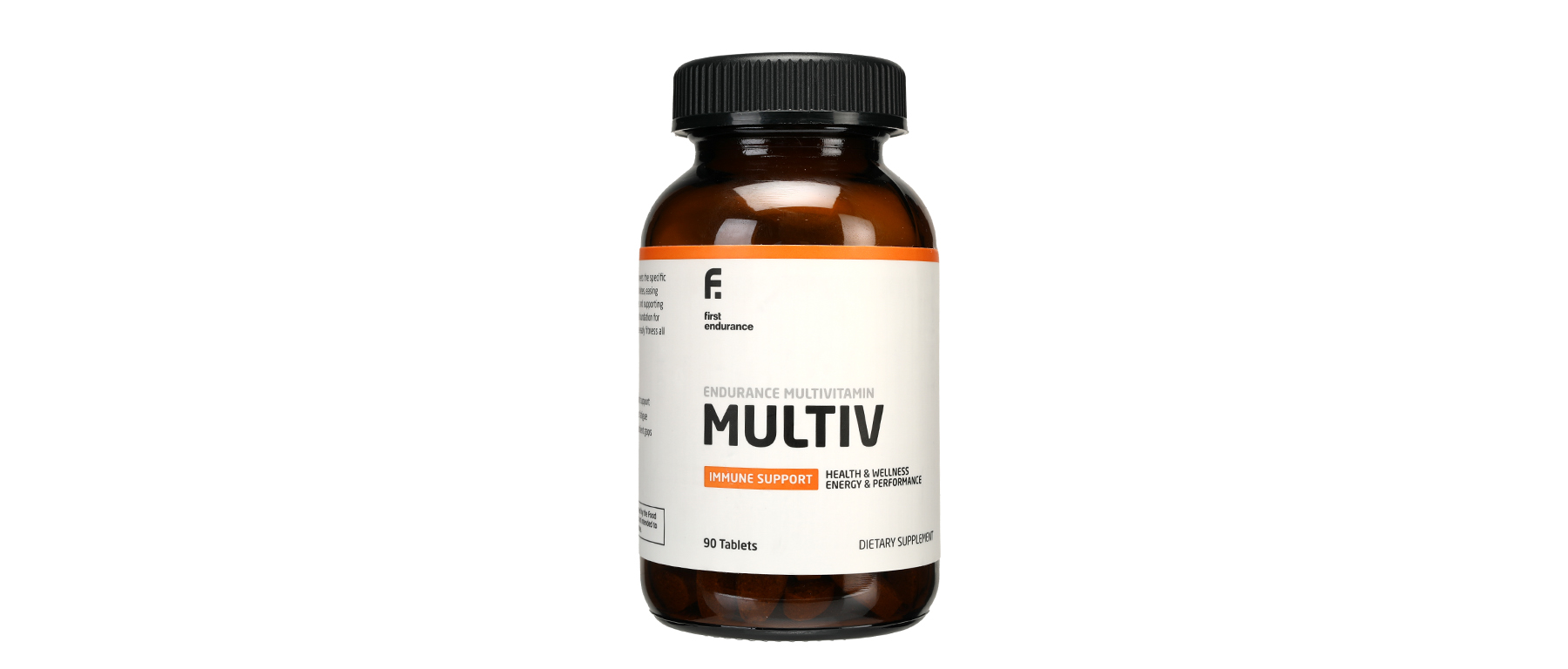 Description

First Endurance's updated MultiV is a direct response to the ever-evolving state of clinical research on endurance athletics, and it's superior to every multi that's come before, even their own MultiV-PRO. It targets endurance-specific micronutrient gaps with daily support, year-round, building a performance foundation that's better than anything the company has ever made so you can hit a level that's better than you've ever been.
Endurance athletes are defined by constantly balancing on a fine line: fitness and wellness vs. underperformance and illness. They also require more than off-the-shelf multivitamins provide. Endurance nutrition often focuses on the bioavailability of carbs, nutrients, and electrolytes, but none of that matters if the athlete isn't available to compete, and the harder you train, the more taxed your immune system is. MultiV 2.0 contains a new, extremely potent dose of highly refined yeast beta glucan, which reinforces the immune system. Less risk of upper respiratory tract symptoms commonly associated with training and racing. Less risk during constant exposure while traveling to events. The new MultiV is specifically engineered to meet the unique demands and requirements of endurance athletes. This revolutionary formula provides vitamins, minerals, and patented components shown by clinical research to be critical, real-world needs for athletes training in multi-hour blocks of high-intensity endurance exercise.
MultiV helps your gut adapt to higher carb intakes in two ways. First, by powering GI energy metabolism to process more carbs. Second, by supporting general digestive health for overwhelmed GI tracts. The reimagined tablet now also contains ChromeMax®, a patented chromium complex that's been shown in several clinical studies to help you burn body fat while maintaining lean muscle*. It works by helping the body utilize insulin more efficiently. That helps the body metabolize glucose for energy, preserving muscle mass. This vitamin is the foundation a dedicated athlete needs to build a base and maintain race-ready fitness the entire season, more important than daily stretching or the occasional drivetrain tune-up. A daily multi with this level of endurance-specific support is the starting point for maintaining a healthy body, year-round – especially in today's endurance world, where most dedicated athletes don't have an offseason.
Return to Top
Features
High-potency multivitamin scientifically engineered and optimized for everyday endurance athletes
Industry-leading immune system protection that helps you get lean & stay lean with unrivaled antioxidant support
Developed to help you utilize the high amount of carbs you need during training and racing without GI distress
Engineered to support red blood cell formation by including micronutrients like folate, vitamin B12, Ferrochel® iron, and choline
Ferrochel® is highly bioavailable, providing maximal absorption for peak oxygen carrying capacity that doesn't impede absorption of other mineral
Taking the 3 tablets individually with separate meals is optimal; but taking 3 is crucial, over one, two or three meals
Take daily, consistently; always with a meal to aid absorption and digestion
Ingredients

Vitamin A (100% as Beta Carotene): 900mcg RAE, 100%
Vitamin C (as Absorbic Acid) 400mg, 444%
Vitamin D (as Cholecalciferol) 20mcg, 100%
Vitamin E (as d-alpha-Tocopheryl Succinate) 30mg, 200%
Vitamin K (as Phytonadione) 75mcg, 62%
Vitamin B1 (as Thiamin Mononitrate) 4mg, 333%
Vitamin B2 (as Riboflavin) 5mg, 385%
Niacin (as Niacinamide) 20mg NE, 125%
Vitamin B6 (as Pyridoxine Hydrochloride) 4mg, 235%
Folate (as L-5-Methylfolate Calcium) 400mcg DFE, 100%
Vitamin B12 (as Cyanocobalamin) 30mcg, 1250%
Biotin 300mcg, 1000%
Pantothenic Acid (as d-Calcium Pantothenate) 20mg, 400%
Choline (as Choline-L-Bitartrate) 55mg, 10%
Calcium (as Dicalcium Phosphate Anhydrous) 90mg, 7%
Iron (as Ferrous Bisglycinate)(Ferrochell®) 18mg, 100%
Iodine (as Potassium Iodide) 150mcg, 100%
Magnesium (as Oxide, Dimagnesium Malate) 250mg, 60%
Zinc (as Oxide and Bisglycinate) 22mg, 200%
Selenium (as L-Selenomethionine) 55mcg, 100%
Copper (as Gluconate) 2mg, 222%
Manganese (as Gluconate) 1.15mg, 50%
Chromium (as Chromium Picolinate) (Chromax®) 100mcg, 286%
Molybdenum (as Sodium Molybdate) 45mcg, 100%
*Vitamin K2 (as Menaquinone-7)(K2Vital®) 45mcg
*Boron (as Bororganic™ Glycine)(Albion®) 1mg
*Ginkgo biloba Extract (Ginko biloba)(leaves)(24% Ginkgoflavone glycosides, 6% terpenoids) 120mg
*Green Tea Extract (Camellia sinesis)(leaves)(50% polyphenols)(decaffeinated) 200mg
*Spectra® Total ORAC5 Blend 50mg
*Yeast Beta Glucan (Immudyne Nutritional NQ™) 30mg

Percent daily values are based on a 2,000 calorie diet
( * )Daily Value Not Established

Other Ingredients: Microcrystalline Cellulose, Croscarmellose Sodium, Stearic Acid, Magnesium Stearate, Hypromellose, Silicon Dioxide, Pharmaceutical Glaze

Vegan Friendly, Gluten Free
Serving size: 3 tablets / Servings per container: 30
Size: Bottle of 90
Return to Top