Accessories Lighting Systems - Front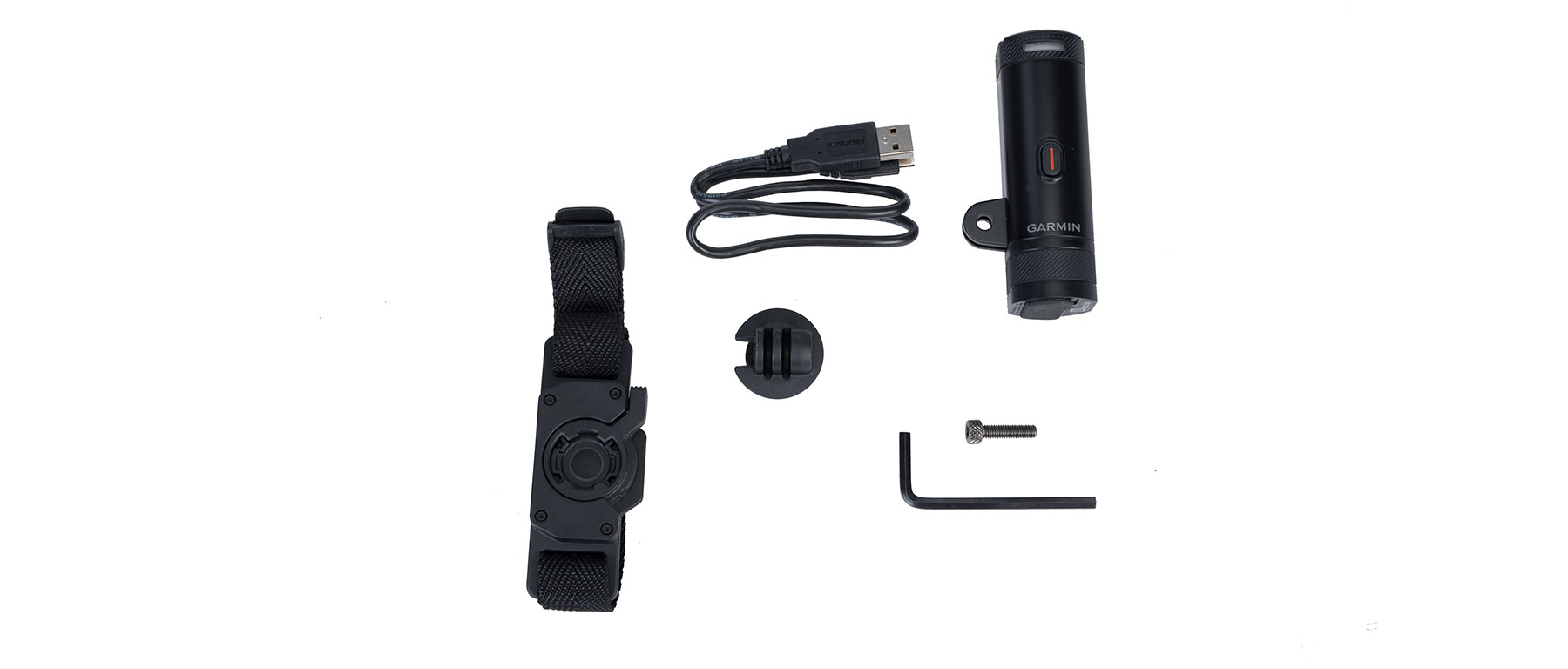 Varia UT800 Smart Headlight
Excel Sports Part # 445900
Garmin Part #
010-01673-00
Request Stock Alert
Description
Garmin's Varia lights and radar systems offer cyclists some major advantages in safety, coordination, and control integration. When used with a compatible Garmin Edge, fenix, vivoactive, ForeRunner, and many more wearables, the Varia products form a true ecosystem with a central control unit. The updated headlight, the Varia UT800 now puts out 800 Lumens max light, has a new lower profile design, and features greater daylight visibility. Garmin is offering the UT800 in two versions, dictated by the mount type. The Standard edition comes with an Out Front style mount, while the Trail Edition features a helmet mount with a friction mount interface. Each mount type is also sold separately, so you aren't limited if purchase the Standard version now.
The Varia UT800 Headlight is powered by a Lithium cell, USB rechargeable battery that offers excellent run times in all 5 run modes. You don't need a compatible Edge head unit to use the UT800, as the light features standard controls. You do lose some features, such as the Auto Beam Intensity, which uses GPS speed to automatically adjust the intensity of the headlight's beam. At 800 lumens, the Varia UT800 smart headlight is certainly bright enough at higher speeds, while at lower speeds, the brightness is reduced to conserve battery life. Of course you can fully control the UT800 from the head unit as well, even in manual mode. Communication is via ANT+ for all Varia products.
The Daylight Flash mode can be seen from a mile away, which is quite impressive and effective. The sleeker casing design is lower profile and weighs just 130 grams with a physical size of 96.6 mm x 33.5 mm x 29.7 mm (without mount). The high quality 800 Lumen Cree LED lamp will outlive you and the entire unit is IPX7 rated for water and weather resistance. Garmin has truly engineered the Varia lights to best complement Garmin head unit users. The Edge 1000, 820 and 520 series units all offer a single point of control for your bike computer, Varia Radar and Varia Lights, as well as the VIRB camera system. The units integrate easily via the ANT+ wireless transmission protocol, and minimize the reaching around required to control your devices while you ride. If you ride a compatible Edge unit, and use lights, camera, or radar, staying within the Garmin ecosystem not only makes sense, but keeps you safer on the road. The updated Varia UT800 has only made that experience better.
Return to Top
Features
High-intensity cycling headlight for urban and trail use with Garmin integration
800 Lumens max output in High mode, with 5 total run modes
New low-profile design offers a sleek yet powerful design at just 130g (4.6 oz)
Wireless ANT+ connectivity to Garmin Edge computers and others will ANT+ Light Control for full features, control
Also works independently, with control right on the light casing
Five standard lighting mode modes: High (1.5 hrs), Medium (3.0 hrs), Low (6.0 hrs), Night Flash (6.0 hrs), Day Flash (25.0 hrs)
Auto Beam Intensity automatically adjusts intensity of the headlight's beam when integrated with a compatible Edge unit
IPX7 rated water and weather resistance
Compatible with: Edge Explore/1030/1000/830/820/530/520, fenix series, Forerunner series, vívoactive HR/3/4, Venu series and many other Garmin wearables (see Garmin's site for full list)
Low-profile design offers a sleek yet powerful design at just 4.6 oz.
Includes: Varia UT800, charge cable, manual, dual out-front mount OR helmet mount
Options: Standard (Out Front Mount), Trail (Helmet Mount)
Color: Black
Return to Top