Accessories Helmets
Description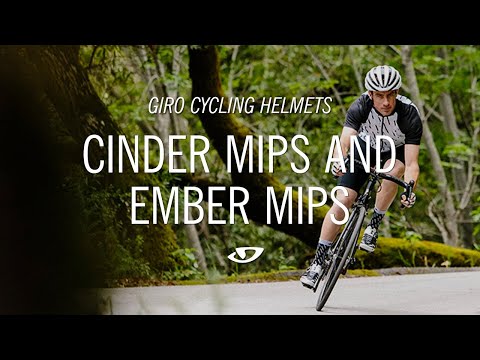 Road helmets are loaded with safety, performance, and aerodynamic features these days. The Cinder MiPS helmet from Giro is a great example of a $150 retail offering that simply seems like it should be far more expensive. Standard top-end Giro technology such as the In-mold polycarbonate shell with EPS liner, Thermoformed SL Roll Cage™ reinforcement, fit and control from the Roc Loc 5, and Wind Tunnel ventilation all make the Cinder a great helmet that meets or exceeds CPSC safety requirements, and when you add in MiPS technology, the Cinder truly stands out.
The integration of the MIPS protection system takes place under the helmet's shell. MIPS separates the fit lining and carriage of the helmet from the shell. The two are connected at four points with a stretch material. In normal use the shell is stable. But what MIPS researchers, and others, have learned about collision and impact has to do with the movement of the brain within the skull at impact. Torsional force can damage the brain as much or more than a direct impact. In isolating the shell from the fit system, MIPS allows the shell to move- from impact, or torsion, 10-15mm independently from the skull. This drastically reduces the impact and rebound forces that cause brain injuries. While there are no guarantees, MIPS has greatly improved the level of protection that a helmet can provide.
The Cinder Helmet has a fairly compact shape, and delivers comfort from the excellent fit and the new Air-FX padding system. Giro's flat strap and buckle system is simple to adjust, soft against the skin, easy to clean, like the Roc Loc 5, can adjusted with one hand. As there is generally no difference other than color in men's and women's helmets, female and long hair male cyclists will be happy to hear that the Roc Loc 5 and shape of the Cinder are ponytail friendly.
Ride with confidence and comfort with the Cinder MiPS Helmet, while saving a few dollars and enjoying the safety and protection delivered by MiPS and Giro.
Return to Top
Features
Sleek road helmet with exceptional fit, comfort and protection
MIPS-equipped helmet to reduce rotational, sheering forces at impact
Compact shape, with semi-aero profile
Full wrap In-Mold polycarbonate shell, EPS liner Thermoformed SL Roll Cage
26 vents with Wind Tunnel internal channeling
Roc-Loc 5 fit dial system allows for on hand adjustment of tension and vertical fit
Design and aesthetic drawn from Synthe helmet
Sizes: Small, Medium, Large
Colors: Matte White, Matte Black/Charcoal, Matte Black Fade/Yellow
Weight: 295 grams (Medium)
Return to Top
Sizing
Shoes
| Euro | 38 | 38.5 | 39 | 39.5 | 40 | 40.5 | 41 | 41.5 | 42 | 42.5 | 43 | 43.5 | 44 | 44.5 | 45 | 45.5 | 46 | 47 |
| --- | --- | --- | --- | --- | --- | --- | --- | --- | --- | --- | --- | --- | --- | --- | --- | --- | --- | --- |
| Mens | - | - | 6.5 | 7 | 7.25 | 7.5 | 8 | 8.5 | 8.75 | 9 | 9.5 | 10 | 10.5 | 10.75 | 11 | 11.5 | 12 | 13 |
| Womens | 6.5 | 7 | 7.5 | 7.75 | 8.25 | 8.5 | 9 | 9.25 | 9.75 | 10 | 10.5 | 11 | - | - | - | - | - | - |
Helmets
| Size | S | M | L |
| --- | --- | --- | --- |
| Head Circumference | 51-55 cm / 20"-21.75" | 55-59 cm / 21.75"-23.25" | 59-63 cm / 23.25"-24.75" |
FormFit Jerseys
| Size | S | M | L | XL | XXL |
| --- | --- | --- | --- | --- | --- |
| Chest | 35"-37" | 38"-40" | 41"-43" | 44"-46" | 47"-49" |
Return to Top