Travel & Storage Car Travel Systems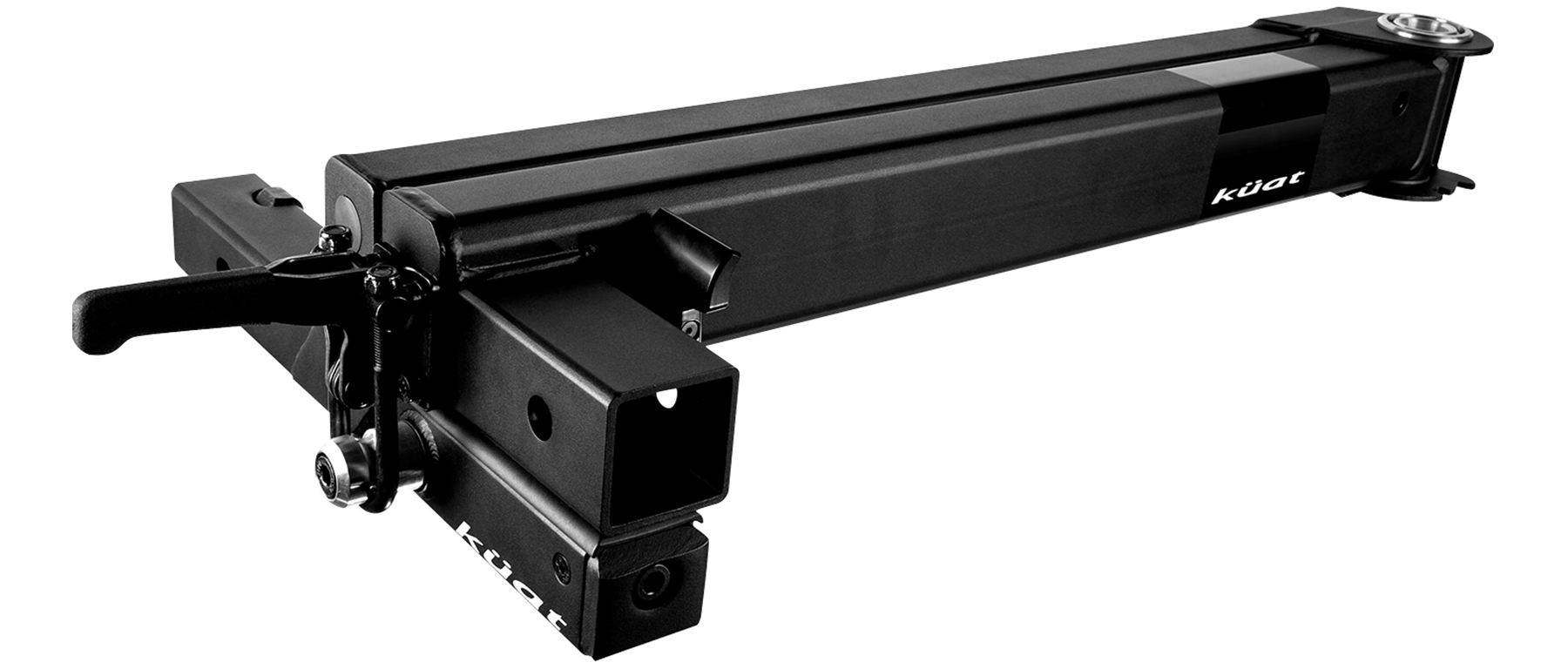 Pivot V2 Swing Away Extension 2"
Excel Sports Part #
Kuat Part #
UPC/EAN#
Actual Product Weight grams
Request Stock Alert
Description

Converting your Kuat 2" receiver rack to a swing-away model via the PIvot V2 offers a great way to attain easier access to the back of your vehicle when your rack is mounted. The first version of the Pivot was well received, but the V2 is upgraded for greater overall stiffness, control, and stability, with easy-use features. The Pivot V2 allows you to smoothly swing up to a 4-bike rack to the side for clear access to tailgates, rear doors, and hatchbacks. And when it's time to load up, the tightening mechanism makes sure your rack only moves when you want it to. The Pivot V2 is also available in either passenger or driver side swing action, and while most people think the passenger side makes the most sense, enough Kuat fans have asked for a driver's side option- so here it is.
The keys to the Pivot V2 are the stout, oversized pivot and the proprietary FLATLOCK cam system that makes sure the Pivot V2 is stable in the receiver. The set-up features is an 8mm hex driven internal wedge that eliminates wobble in the hitch; most likely similar to the version you have on your rack. The rack version then works in the extension that is part of the V2. An included locking hitch pin adds security for the Pivot V2 to your vehicle's receiver. Essentially the PIvot V2 adds 31¼" from the center of your receiver to the center of the bolt hole that your rack will utilize. So by adding the distance from your bolt hole to the rack body, you get the full clearance length to the side of the vehicle. Kuat has a full schematic diagram on their website if you want to confirm all measurements.
The swing-away concept is simple in theory, but more challenging from an engineering perspective. There have been many racks with an integrated swing-away system that work well, but what is great about what Kuat has done is to offer you an option. Sometimes you need the swing-away action, sometimes you don't and you may prioritize a more compact rear profile. You have the option to use it, or remove it and simply mount your rack direct to the vehicle. If you travel with your bikes enough, you know what your needs are and can decide if the 2" Kuat Pivot V2 Swing-Away Extension is right for you. Options are good. Kuat just adds versatility and capability to their already fantastic receiver rack systems.
Return to Top
Features
Stout, secure, stable swing-away receiver extension designed for specified Kuat receiver racks and load
Steel construction with high quality black finish
Toggle clamp quick release detent action for 90° then 120° swing-away capability
Proprietary FLATLOCK cam system makes sure Pivot V2 is stable in receiver (via 8mm Hex key)
Oversized, stainless steel and aluminum thru-axle pivot system
Moves your effective rack distance 14⅛" further away from back of vehicle
Follow instructions for proper assembly, installation and usage
2" vehicle receiver and rack only (not for use with 1¼" accessories that use a 2" adapter)
Do not use rack on off-road terrain requiring high-clearance or 4x4 vehicle capability; normal gravel roads are not considered "off-road terrain"
Must mount to your vehicle's receiver directly; do not use with hitch extenders
Using the Pivot V2 will reduce your hitch's overall tongue capacity by 50% (ex. 500lbs to 250lbs)
Load maximum of 250 lbs
Do not use this product with recreational vehicles or trailers
Locking hitch pin for security
Compatible with fully loaded 4-bike NV 2.0 family, Transfer family, Sherpa 2.0 family, and original NV 2" (two bike only)
Patent-pending design with lifetime warranty
Weight: 39 lbs
Select: Driver (PVD20B) or Passenger (PVP20B) side swing
Color: Black
Return to Top