Pumps & CO2 Floor Pumps
Pressure Overdrive Floor Pump
Excel Sports Part # 462547
Lezyne Part #
1-FP-PRODR-V204
Request Stock Alert
Description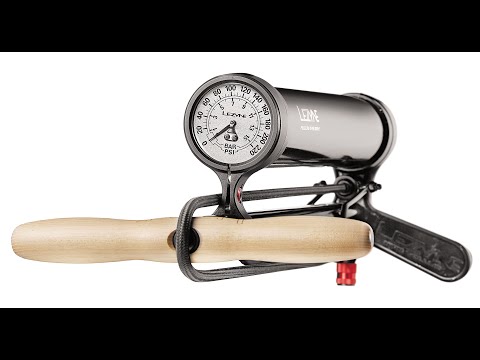 Tubeless tires, especially large volume models used in mountain bike, cyclocross, and gravel riding, can be a nightmare to get seated and sealed properly without an air compressor to provide a fast, large volume of air to push the tire up on the tight rim bed of a typical tubeless ready rim. Lezyne's progress towards a floor pump that can truly push the required airflow has been steady and with the Pressure Overdrive series of pumps, the designers have achieved the level of performance unmatched in this quest.
This standard Pressure Overdrive Floor Pump does function as a high performance pump for every day use, but It features a secondary chamber that is manually pressurized and then released with the integrated foot-lever. This provides a strong, continued blast of air capable of seating road, mountain and plus-sized tubeless setups. The system has worked with every tubeless ready rim and tubeless ready tire we have tested it on. The only issues have been when attempting installation with non-TR rims or tires, but that is to be expected. The Pressure Overdrive also had no problems with UST-standard tires and rims.
Pressurizing the large chamber is simple. Attach the chuck to the tubeless valve. Move the integrated foot-lever to the upright position, then pump to add pressure to the large cylinder. Lezyne recommends 150psi as a starting point. Once you pressurize, simply step on the foot lever to release the massive shot of air into the tire. In general, a single attempt will be successful in seating the tire, then you can check and raise or lower pressure as needed (some will escape during the seating process). As you work with different tire sizes and volumes, you will likely experiment with different levels of the initial pressure blast for best results. We recommend you check pressure immediately after seating the bead, and lowering if necessary. Keep in mind that many tubeless ready rims have a low usage pressure, especially with high volume tires and you don't want to leave the tire over-inflated for an extended period of time.
We have high expectations for Lezyne products, based on the company's own standards and exceptional design and construction. The Pressure Overdrive is precision built with stout steel base and CNC machined cylinders and fittings. An ergonomic wooden handle has a pleasing shape and feel, and delivers a classic aesthetic to this modernistic design. The handle drives an oversized aluminum plunger that is reliable and smooth, stroke after stroke, year after year. The 220 psi capable pump features an extra long, nylon-reinforced braided hose than will withstand the pressure and the indignities of shop, garage, and event use. Lezyne's unbeatable ABS 2 chuck seals perfectly on Presta or Schrader valves. ABS stands for Air Bleed System, and the chuck has a simple release mechanism so you can precisely lower the pressure to your preferred psi level for optimal tubeless performance. The HV ABS2 also has a brilliant quick release mechanism that is simple and easy to use and renders this normally dodgy task pleasantly boring.
Accuracy of air pressure is addressed by the top mount analog dial gauge that reads every five psi from zero to 220, and in bars from 1-15. The Pressure Overdrive has a built-in safety release in the event of over inflation. As you can see, every detail, every purpose, has been identified and attended to with Lezyne precision. The Pressure Overdrive Floor Pump is Lezyne incarnate: incredible function and impressive construction matched with inspired innovation.
Return to Top
Features
High quality floor pump with large secondary chamber for seating tubeless tires
Manual release for massive blast of air for seating and sealing tubeless tires
Foot lever in up position allows user to fill large chamber, depress to release air blast
Primary chamber functions as normal high pressure pump
CNC alloy chambers with anodized black finish, ergonomic wood handle, steel base
Extra-long nylon braided high pressure hose with aluminum couplers
ABS 2 Chuck: Presta/Schrader use, integrated Air Bleed, quick release
2½" precision dial gauge optimized and calibrated for high-volume usage, fine tuning
Completely serviceable, with replacement parts available
Max pressure 220psi, 15 bar
Return to Top