Tools & Maintenance Cleaners & Degreasers
Park Tool CB-4 Bio ChainBrite Cleaner 16oz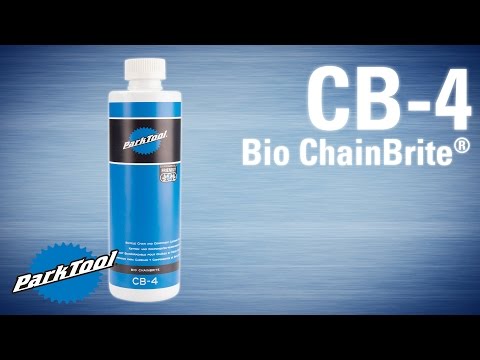 Park's ChainBrite series of degreasing products have proven over time to be among the best options for a broad base of lubricant and grease removal. Now big blue has delivered CB-4, a 100% biodegradable, natural, plant-based degreaser that is effective as it's forebears, yet safer for the environment. Please keep in mind that if you are not using a biodegradable lubricant, you should still contain and clean-up as usual.
While optimized for use in Park's CM-5.2 Cyclone Chain Scrubber, CB-4 can be used as a general degreaser, and because the formula will not harm carbon, alloy, plastic, or rubber, you can use it with virtually any chain cleaner, or on any surface without fear of ruining finish or function. The solvent is intended to be used in full strength, not diluted, and when working with a rag, you don't an excessive amount. If washing parts in a bin or washer, Park suggests covering the surfaces and using a brush. You shouldn't need excessive soaking time or any removal tool beyond a nylon bristle brush- CB-4 breaks down lubes quickly, even when layered applications have built up, and is easily rinsed with water.
Now you can feel more confident that you are taking strong steps to preserve the environment while performing necessary cleaning and service. Take the time to explore bio-friendly lubricants and close the circle with Park's CB-4 Bio ChainBrite.
Features
100% biodegradable, natural, plant-based degreaser
Formulated for use as general purpose degreaser, optimized for Park chain cleaners
Won't harm alloy, carbon, plastic, or rubber parts
Use CB-4 full strength, do not dilute with water
Cover parts in solvent and scrub using a brush, or use with a rag for general purpose
Easily rinsed with water
Size: 16oz Bottle