Tools & Maintenance Disc Brake Tools
Description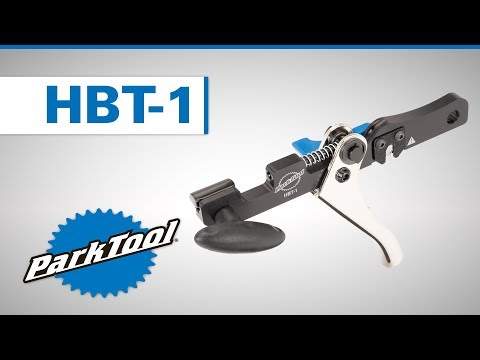 Cutting hydraulic brake hose whether on or off the bike is not difficult, but it is essential to cut it clean accurately at home or in the shop. For shop techs doing it quickly matters as well. The next step in most hydraulic systems is installing a press-in barbed hose insert. For these two everyday shop task Park Tool has developed the HBT-1 Hydraulic Barb Tool, which can handle the bike shop environment and regular use, as well as being the best option for serious home mechanics.
The durable tool is made with lightweight, CNC machined aluminum body, which has been anodized to protect it. The hose clamp device safely secures hydraulic hose without damaging it, while the handle and lever allow you easy control and progressive leverage as you drive barb inserts into place. The overall design is conducive to working on line both on the bike and for initial installation. As you'd expect from Park, the key wear items are both replaceable and actually available.
Return to Top
Features
Cuts hydraulic brake hose (does not cut steel braided hydraulic hose)
Installs press-in style barbed hose inserts
Hard anodized body for improved tool wear
Replaceable parts including push pin tip and stainless steel blade
Lightweight, CNC machined aluminum body
Replacement parts: 2494K Cutting Blade (2), Park 2497 Push Pin Tip
Dimensions: L 8.75", W 4.50", H 3.25"
Return to Top