Tools & Maintenance Hammers & Mallets
HMR-8 8oz Shop Hammer
Excel Sports Part # 526019
Actual Product Weight
885.0
grams
Request Stock Alert
Description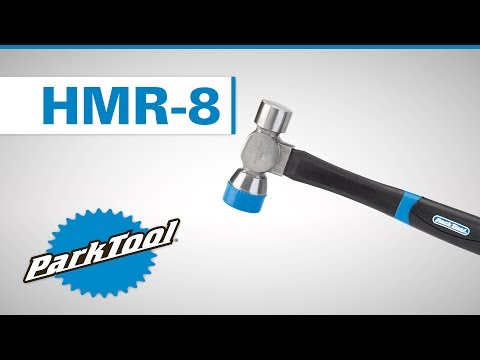 Every bike shop- home or in the store, needs a great, all purpose hammer. Park has worked through a few models, and the HMR-8 Shop Hammer has been designed with considerable feedback from bike mechanics, with a clear picture of current and future hammer use in the shop environment. The HMR-8 is a perfectly balanced striking instrument built for a wide variety of shop uses, and for the long haul, even with daily use.
At 12" in length, the HMR-8 is 1.5" shorter than the HMR-4, which makes it more versatile and agile for use in closed quarters, without sacrificing much leverage or striking force. It features two striking faces, a 1" round forged steel, precision machined face for hard impact, and a 1.25" non-marring composite plastic striking face for less powerful blows. The tip is also replaceable, as it will wear with use. The head system weighs 8 ounces, which is perfect for the type of blows use in bike work, which are quite gentle in the scheme of the hammer world.
The steel head is bonded to a fiberglass central handle that is incredibly durable and keeps the overall weight more balanced. The fiberglass has soft touch, tacky grip surface which is somewhat resistant to grease and oil, so you don't need to worry about the hammer slipping in your hand. We really like the HMR-8, as the HMR-4 seemed a bit much for most shop use, and we suspect you will prefer it as well.
Return to Top
Features
Compact, versatile, agile shop hammer great for bench, box, or travel
Forged steel, 1" round precision machined striking face
Non marring, replaceable 1.25" composite face
Fiberglass shaft with soft touch, semi-non slip grip
8oz (225g) Head
Length: 12" (30.5cm)
Composite tip replacement: Park part #293-8
Return to Top