Tools & Maintenance Wrenches & Sockets
Description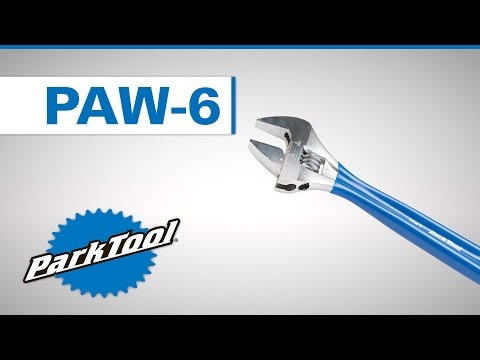 The redoubtable adjustable wrench will always be a "must-have" tool in every home or professional shop. The flexibility and ease of use of an adjustable make it an ideal tool for those who prefer to minimize their overall tool collection, as well as for those who just having one nearby for convenience sake. Park Tool gives the adjustable wrench the Park treatment, and the PAW-6 Adjustable is a perfect example. The blue vinyl handle isn't the only dead give away.
Starting tool construction with Chrome Vanadium (CR-v) steel always make sense. Machine it to a precision ground, heat-treat, plate, and give it a finish polish, and you have one precision tool that will be strong, durable, corrosion resistant and reliable for years of hard use. Finish it off with a laser-engraved measurement scale and the non-slip blue vinyl grip.
The PAW-6 is a 6" long adjustable wrench that is plenty versatile and just the right size for many tasks. The jaws open to 24mm (15/16"), more than adequate for hub lock nuts, and countless other bolts and fittings you find on older bikes, as well as many children's and lower end models that hit the shop every day. Adjustable wrenches provide excellent parallel surfaces for straightening a bent chainring or tooth, or even a disc rotor in a pinch. Of course you can also use the PAW-6 for any use around the house or garage that suits an adjustable wrench. We have been impressed the precision and feel of the adjustment roller and the tool surfaces themselves, and we expect you will as well.
Return to Top
Features
6" long adjustable wrench from the tool masters at Park
Jaws open to 24mm / 15/16"
Chrome Vanadium (CR-v) steel precision ground, heat-treated, plated and polished
Vinyl dipped handle for comfort and no-slip grip
Laser-engraved measurement scale
Return to Top