Tools & Maintenance Wrenches & Sockets
Description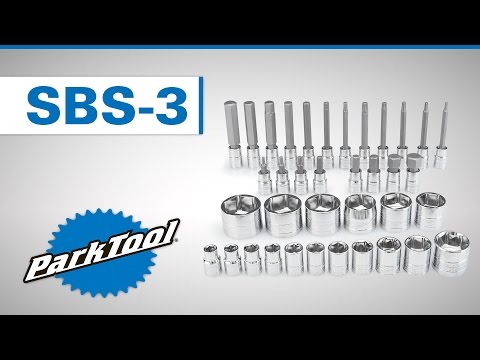 Most bike mechanics want to have every tool they require immediately available for their daily needs. While it is possible to equip a bench, travel or home kit with most bike specific tools in a single purchase, most build their kits over time. There are plenty of tools available that are also general service tools for daily life, automotive, etc. The trap the mechanic falls into is buying sets of sockets and tools that they may only need half or less of, then filling their tool boxes or benches with less useful tools, or needing to store the unused tools elsewhere. Park Tool builds out tool kits and individual tools for bike mechanics of all levels, and in recent years has worked harder to provide mini-sets of common tools that are heavily used in bike repair. This allows you buy only the tools you need, with best or specific options for bike use, at a combined cost that less than you searching for and buying individual tools to build out your own set. The SBS-3 Socket and Bit Set is a perfect example, and frankly, one bike shops and mechanics have been waiting on.
Park builds for reliability, precision and every day use. This set of drive bits and sockets are forged from tough, chrome vanadium steel and nickel chrome plated for lasting durability. All sockets and bits are built with a 3/8" square drive interface for common ratchet, breaker bar, or torque wrenches. The SBS-3 contains 37 individual tools with commonly used sizes of long and short hex bits, long reach Torx bits, and 6-point sockets- as broken down below. Some tools have greater specificity, such as the larger sockets that are used for suspension fork service, and some that are more applicable to many shop uses, such as the 1" socket, which fits various Park Tool Freewheel, Cassette Lockring, and Bottom Bracket tools that have 25.4mm external hex faces. Care has been take to identify tools that have special requirements, such at the 27mm socket, which has an external taper for narrow access fittings, as the forks that employ the 27mm top cap require. You may not want to use the socket for high torque applications on your vehicle but it is rugged enough for most daily applications. All six of the larger sockets have a flat face design, not chamfered, for clean, full tool connection with those low profile hex fork caps, ensuring you won't strip out these mostly aluminum devices.
When you have a highly bike specific set like this, you can keep your bench and drawers clear of excess tools. Park deliver the set in a molded plastic tray organizer that you can slip right into a tool drawer for fast access and prompt tool recognition. Plus when you put the tool back after use, you know exactly where it is for the next use. Once you have this set, if you need to occasionally add a tool here or there, you can. Well thought out and executed with precision and quality, we highly recommend this Park Tool SBS-3 Socket and Bit Set.
Return to Top
Features
Well thought out, 37 tool, bike service Socket and Bit Set
Tools forged from tough, chrome vanadium steel then nickel chrome plated
3/8" square drive interface for common ratchet, breaker bar, or torque wrenches
Short hex bits: 3, 4, 5, 6, 8, 10, 14, and 16mm
Long reach hex bits: 5, 6, 8, 10, 11, 12, and 15mm
Long reach Torx bits: T20, T25, T30, T40 and T45
Standard 6pt sockets: 8, 9, 10, 11, 12, 13, 14, 15, 17, 19mm and 1"
1" socket fits various Park Tool Freewheel, Cassette Lockring, Bottom Bracket tools
Flat-face 6pt sockets: 24, 26, 27, 28, 30, 32mm
27mm socket has external taper for narrow access fittings
Molded plastic tray organizer suitable for drawer use
Return to Top