Tools & Maintenance Saws and Cutting Guides
Description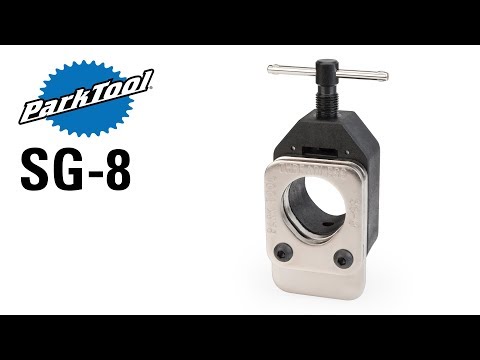 The SG-8 is built around the same specs as Park Tool's standard fork saw guide with the exception that the width of the saw slot is increased to accommodate the wider carbon-specific blades.
The SG-8 ensures a straight, clean cut on 1" (25.4mm), 1-1/8" (28.6mm) and 1-1/4" (31.75) threadless fork steerer tubes. Also works great when cutting handlebars or other round tubes from 22mm to 33mm using the wider, diamond edge carbon hack saw blades like the Park CSB-1.
The clever design features a extended tab the securely locks in to a vise. Rubber clamp will not mark up or damage the fork when securing the steerer tube in the guide. Clearly the best design to date for cutting steerer tubes and a shop standard by anyone's measure.
Return to Top
Features
Saw guide with oversize slot for blades up to 2.5mm (3/32") wide
Thicker blades with diamond edge cutting surface are for carbon fiber
Secure and clamping action with centering high-density rubber clamp
Body is plated steel, with precise guide and stout tab for vise mounting
For 1", 1⅛", 1¼" steerer tubes or components from 22-33mm OD
Same basic design as SG-6, but with the oversized slot for carbon saw blades
Return to Top