Tools & Maintenance Hex Wrenches
Description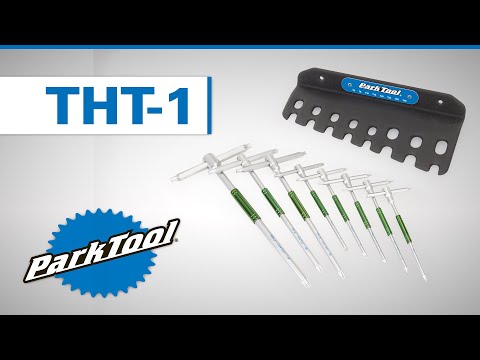 Torx® bolt interfaces are super precise, reliable, and can handle torque with ease, all of which is why the system is now more widely used for many bike components. Park has delivered reliable and effective Torx tools to shop and home mechanics for years, but now with the THT-1 Sliding T-Handle Torx Wrench Set, the folks in Park Tool Blue have released a carefully thought out and executed T-handle Torx set. What makes these different from what's already out there? The combination of professional grade materials and construction, tight tolerance Torx interfaces, sliding T handles, Speed Spinner handle zones, and each tool has strip gripper Torx tool to get stripped or oversized fasteners out.
Designed and built specifically for a wide variety of bicycle and general purpose Torx work the THT-1 consists of eight common sizes of professional quality T-Handle Torx wrenches built for speed, efficiency, leverage and a perfect fit. Materials wise, Park opted for a carefully selected of Chrome Vanadium and S-2 tool steels to make these pro-level tools. The T-bar slides (with just enough friction resistance) so the user can change the leverage point, moving the shaft closer to the head of the T-bar Torx tool. Think removing a shallow Shimano T30 chainring bolt where close leverage and control is desired. On the opposite end of the T from the Torx is an integrated "Strip-Gripper" twisted Torx that makes removal of most bolts with stripped or oversized Torx interfaces fast and easy. Of course the end of the long shaft also features a Torx interface, so you can take full advantage of the Speed Spinner handle on the shaft for longer threaded bolts were speed beats tedium every time.
Soon to become your favorite Torx set, the THT-1 includes a handy tool holder that mounts to any vertical surface, including pegboard and solid surfaces (fasteners not included). While Park built the THT-1 Sliding T-Handle Torx Wrench Set for everyday bike shop use, with materials and features that speed up work flow and can handle all day activity, we know that many cyclists who do their own work will benefit from the quality and features at home or on the road, albeit without the daily workload. Working faster and smarter, while having a Strip Gripper removal tool right at hand is ideal for a home or travel mechanic, because when you need one, you need one. Park offers this set with T6, T8, T10, T15, T20, T25, T30 and T40 Torx® wrenches and the tool holder, which we highly recommend, but individual Sliding THT Handles, and Hex options are also available. Park even color codes the Hex option with anodized blue Speed Spinners, while the Torx options feature a green version for instant recognition. Smart folks, the people of Park Tool.
Return to Top
Features
Exceptionally well designed and executed Sliding T-Handle Torx wrench set
Optimal for daily shop use, but super helpful for anyone who works on bikes
Carefully selected combination of Chrome Vanadium and S-2 tool steels
Sliding T-handle creates increased leverage and multiple access positions
Unique green anodized aluminum Speed Spinner makes running long bolts in and out quick and effortless
Integrated "Strip-Gripper" twisted Torx that makes removal of most bolts with stripped or oversized Torx interfaces fast and easy
Sizes in set: T6, T8, T10, T15, T20, T25, T30 and T40 Torx® wrenches
Tool holder is included with the set and mounts to any wall, bench or tool box, perfectly positioning each wrench for easy access and storage (fasteners not included
Return to Top