Tools & Maintenance Screwdrivers & Picks
Description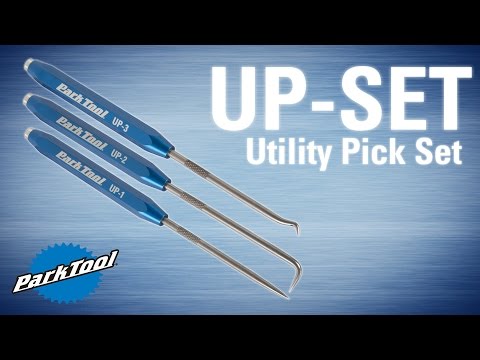 Every shop, home or race mechanic has a pick or pick set. Some have been created from steel spokes, some have been hand delivered by the big tool truck that swings by every few weeks. There are many options out there. Park Tool is the industry leader in bike tools, and has a very good feel on what bike mechanics like, and need. The Park Utility Pick Set is just another example of this inside knowledge, but still surprises with it's level of detail and consideration of heavy use bike tools get in everyday service areas.
The three pick set features: straight, 90 degree angle, and hook options. The pick shafts are smooth except for a knurled area that not only makes gentle use easier to control, but also allows you easy grip with a pair of pliers, which comes in handy when you want to replace the shaft end. Yes, if you bend, damage or flat out wear the tool out, it can be replaced. Of course, this is forward thinking, because the cold-formed, heat-treated polished high-carbon steel will hold up exceptionally well. The machined aluminum handles are 8 sided for excellent control and feel, a must in a setting in which grease is always present. Each grip handle also features a small magnet for easy part retrieval.
The picks are an ideal length for light leverage, and working in small areas that require a delicate touch. Once again, Park Tool has proven that it can apply it's fastidious knowledge and experience to even the simplest, but often the most crucial of mechanic's tools. Even if you already have a decent pick or set, we highly recommend the Park Utility Pick Set.
Return to Top
Features
Three pick set ideal for bicycle mechanics; professional or casual
Picks have an 8-sided machined aluminum handle for maximum control
Pick shafts are replaceable and feature a knurled section
Pick shapes: straight, 90 degree, hooked
Shafts made from cold-formed, heat-treated and polished high-carbon steel
Each handle holds an end-mounted magnet
Return to Top