Mountain Chains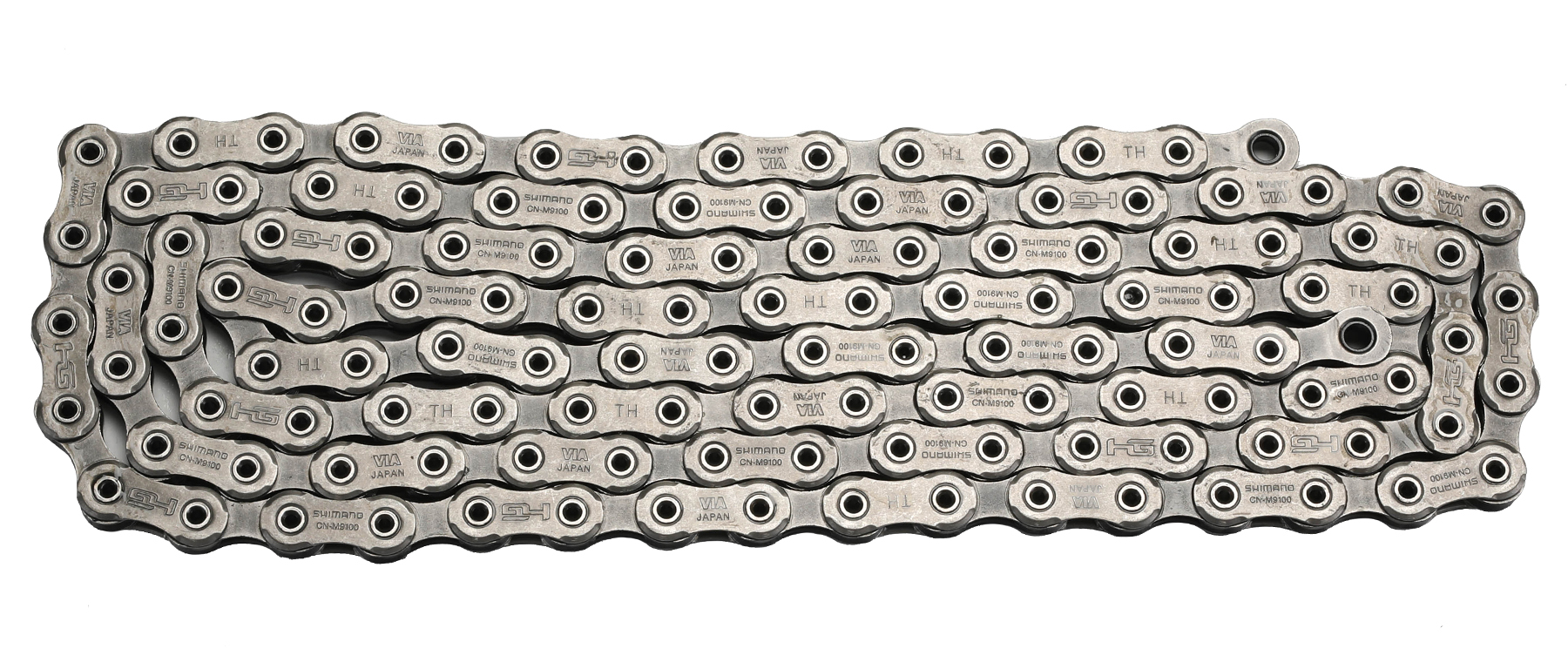 CN-M9100 XTR/Dura-Ace 12-Speed Chain
Excel Sports Part # 291140
Shimano Part #
ICNM9100126Q
Request Stock Alert
Description

The release of Shimano's XTR M9100 groupset delivered us the CN-M9100 12-Speed chain. Optimized for width, plate design and overall integration with Hyperglide+ chainring and cassette cog tooth profiles, the CN-M9100 is one of the quietest chains Shimano has produced, despite the massive cassette range and extreme chainline angles.
Shimano applies their SIL-TEC ultra-low friction surface treatment technology to this chain. SIL-TEC is an advanced plating process that improves system performance through the use of imbedded fluorine particles resulting in systems that run smoother and wear longer in all conditions. One of the major focus points of the M9100 drivetrain was Shimano's commitment to smoother, quieter, and more intuitive shifting performance. The chain is crucial to all of these elements. Shimano engineered the Hyperglide+ system to help riders seamlessly maneuver rough trails by reducing pedaling shock and cutting shifting times by a 1/3 versus the current HG system.
A second major focus was on chainwrap and retention of the chainrings and cogs. This was achieved by extending the end of inner plate to firmly hold both throughout the pedaling action. The engineers also made subtle changes to the outer edges of the plates, no doubt to improve up and down shifts by reducing friction points. This true even with the wider teeth of the chainring. The inner plates seem to be chamfered, allowing the chain to self center on the teeth which decreases stress on the plates and rollers, reducing wear and allowing the chain to sit as deeply on the profile of the teeth as possible.
The CN-M9100 12 Speed Chain employs a 12-speed specific version of the Quick Link system (SM-CN910-12)), and it is not recommended you use any other option. As with the 11-speed Quick Link, the 12-speed version is a single-use item. Once you install then remove, it needs to be replaced. We recommend you pick up a few so you have them at home for cleaning or service, as well as having one in your saddle bag or hydration pack. While it is much easier with tools, the link can be separated or installed by hand. The 249 gram chain comes at full length with 116 links. Return to Top
Features
12-speed chain for Shimano XTR M9100 1x or M9120 2x drivetrains
Optimized for width, plate design and overall integration with Hyperglide+
SIL-TEC ultra-low friction surface treatment technology
Commitment to smoother, quieter, and more intuitive shifting performance
Major focus was on chainwrap and retention of the chainrings and cogs
Self centers on the 1x teeth which decreases stress on the plates and rollers
Utilizes single use SM-CN910-12 12-speed Quick Link system
Hollow-pin, highly evolved and proven chain design for XTR M9100
Color: Silver
242 grams (at average of 114 links)
Return to Top