Road Cables & Housing - Shift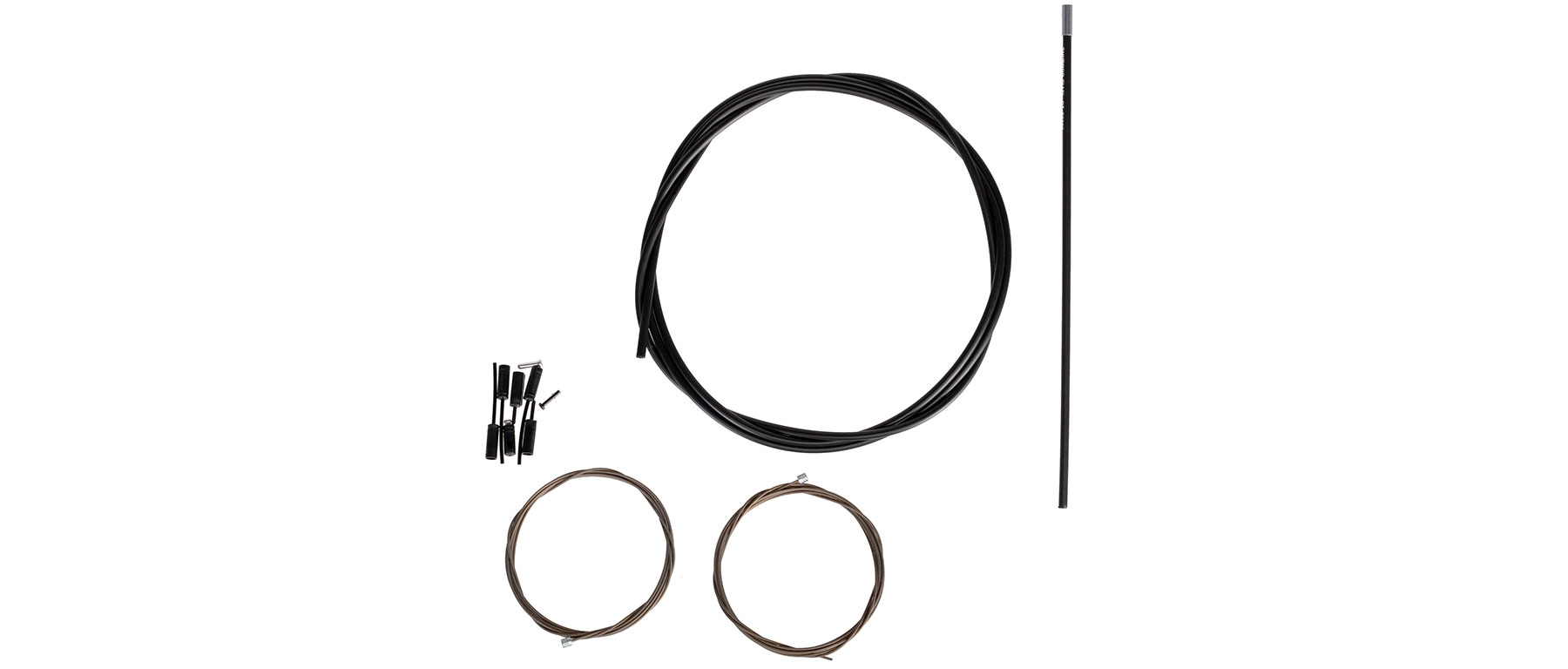 Description

This is a replacement for the stock Shimano R9100 series derailleur cable set and can be fully used with all 2nd generation Shimano 11-speed mechanical shifting systems. It features the two inner cables, housing, ferrules, and cable ends. The inner cable has a new, enhanced polymer coating that assists to reduce friction for the buttery-smooth shifting that is a hallmark of the 11-speed Dura-Ace cable-actuated shifting systems, while a more flexible length of housing is used for the rear derailleur loop.
The Polymer Shift Cable features the enhanced coating, which manifests in mini tube-shapes around the stainless cable. This has two major effects. The first is less surface area making contact with the inside sleeve of the housing- which reduces drag in the system. The second is that the cable can curve and bend more easily- again reducing friction. The space between the tubes also holds Shimano's silicone cable grease better.
Included within this complete Dura-Ace Polymer Shift Cableset is a 1700mm long, 4mm OT-SP41 housing that has been lubricated internally with Shimano's silicone Cable Grease. You get two inner cables in 2100mm and 1800mm lengths. The kit also features the 240mm segment of OT-RS900 housing, which is much more flexible, and required for proper set-up and function with the R9100/R8000/R7000 rear derailleurs. When you buy one of these derailleurs, this loop does come with the derailleur, not the mechanical shifter set. Shimano also includes the needed protected sleeve ferrules and two shift cable ends. The final small part is called the "Cover with tongue (nose cap)". This small black part is a wear item used with most 11-speed Dura-Ace and XTR rear derailleurs to reduce cable fray and is designed to be replaced with the polymer cable. It is the first piece that goes into the cable adjuster or stop on the rear derailleur.
Return to Top
Features
Polymer shift cable set designed for Shimano Dura-Ace R9100 mechanical shifting system
Can be used with any 11-speed cable Shimano road or mountain system, but benefits are most clearly felt with mechanical refinements of R9100, R8000, R7000 systems
Polymer-coated stainless steel cable reduces friction with tube-like structures
Matched with specific pre-lubed 4mm Shimano cable housing
1700mm of OT-SP41 housing features internal silicone cable grease
240mm segment of more flexible OT-RS900 housing for use as the rear derailleur loop, with ferrule attached
1.2mm diameter Polymer coated SUS stainless cables: 1 x 2100mm, 1 x 1700mm
Also includes: 6 cable ferrules with cable sleeves, 2 crimp end caps, 1 Cover w/ tongue (RD nose cap)
Two of the black ferrules have a lengthwise ridge, these are used with the shifter bodies
Shimano part#: Y0BM98010
Made in Japan
Return to Top