Shoes Road Shoes - Women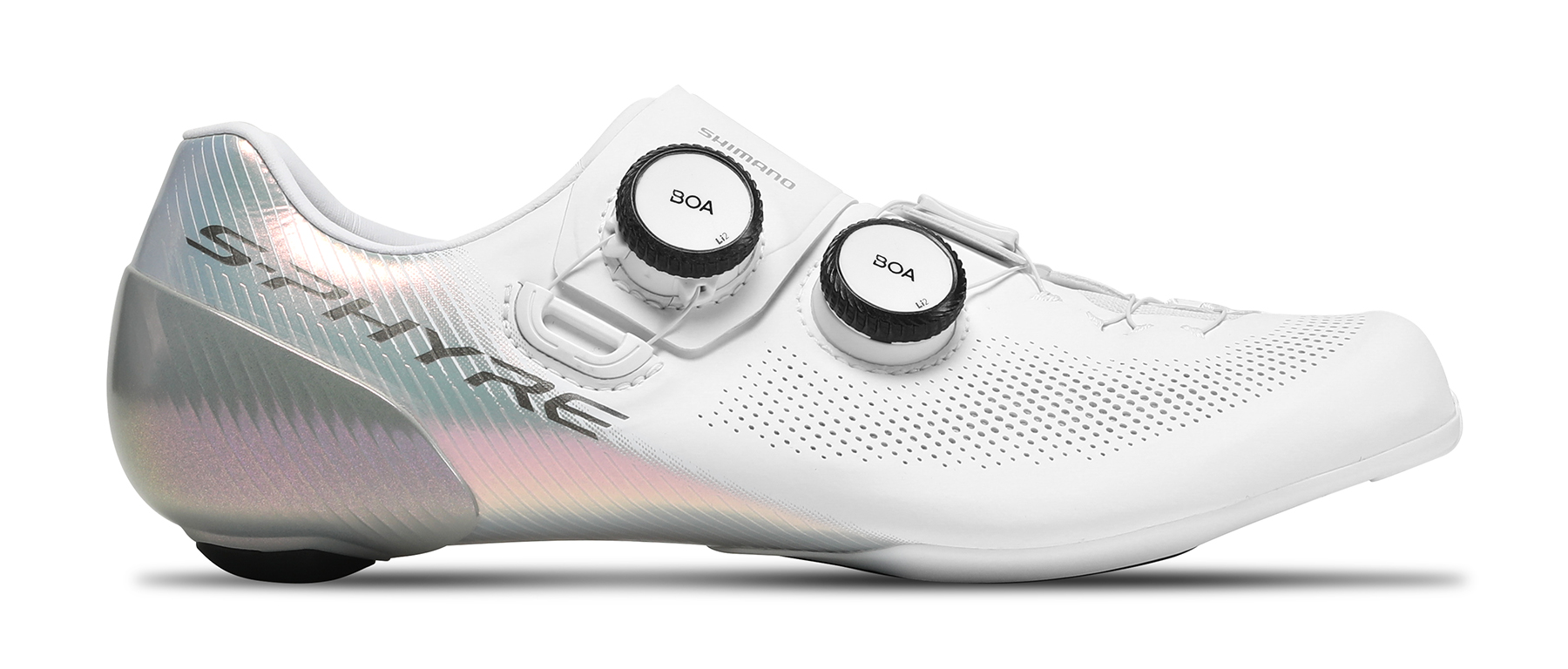 SH-RC903W S-Phyre Womens Road Shoes
Excel Sports Part #
Shimano Part #
UPC/EAN#
Actual Product Weight grams
Request Stock Alert
Description

Entering 2023, Shimano releases their women's version of the 4th generation S-Phyre Road Shoe. This premium grade, pro race-level model is lightweight, super stiff, and features an improved retention/fit system, some toe box re-shaping, improved ventilation and a new heel system that improves torsion resistance while also being fully integrated in the aesthetics of the shoe. For some, these upgrades may not seem major, but for those seeking better upper closure, reduced pressure points, and cooler feet, the SH-RC903W S-Phyre Road Shoes are major improvements given that the rest of the shoe has been ideal for most competitive cyclists. The premium S-Phyre series shoes have been our best selling road models for men and women since the RC900 series was released and we expect the RC903W to continue that legacy.
The RC903W's integrated seamless midsole and upper construction set a new level of fit, stability and lightweight performance and the BOA Li2 2-way micro-adjusting dials offer the most exacting comfort fit you can enjoy. The new, sleek, low-profile crossover lacing pattern elegantly secures forefoot 360° surround wrapping upper creates a supremely engineered fit for all riders. Shimano has reduced the larger anchors to 1 from three for the BOA system, and used slimmer, less pressure inducing lacing tabs for the cables, which cross-over and draw the upper together much more cleanly, with little material that doesn't hug the foot. It is also lighter and feels more natural if one is used to laces.
Of course the carbon midsole is still the driver of power transfer and support. With a 12/12 stiffness rating, fore and aft venting, and matched for strength and torsional resistance with the women's Dynalast system, the RC903W delivers excellent leverage while reducing foot fatigue. Coupled front to rear with the new premium-finish heel cup with anti-twist stabilization, the whole shoe secures optimal foot positioning for intense acceleration. Along with the airflow from the sole vents, Shimano has moved to a more substantial, and effective perforation zone in the upper, which along with the use of mesh, allows for air to flow in, and heat and excess moisture to escape. This is a fantastic hot weather shoe and one easily covered with booties of various weights and protection grades for all-season use.
Return to Top
Features
Subtly updated, but highly effective 4th generation Women's fit, premium S-Phyre road shoe from Shimano
Generally features greater comfort, less weight, and sleeker lines with increased ventilation
Women's fit and Dynalast runs a little narrower, with less overall volume than unisex fit
Lightweight and breathable microfiber leather upper provides optimal fit and superior comfort throughout your ride
Premium-finish heel cup with anti-twist stabilization secures optimal foot positioning for intense acceleration
Microfiber synthetic leather & mesh upper materials
360° surround wrapping upper creates a supremely engineered fit for all riders
Sleek, low-profile crossover lacing pattern elegantly secures forefoot
Dual low-profile BOA® Li2 dials allow quick and precise micro-adjustments
Proven Dynalast shape for optimized toe-spring section, comfort and power
Women's specific last with surround wrapping upper creates a more natural and comfortable fit
TPU outsole cover
High density cup insole with adaptable arch pads
3-bolt Delta cleat pattern for virtually all road pedal and cleat systems
Fore-aft adjustment in pattern, with fine scale markings for cleat mounting precision
Women's sizes: 37-43
Colors: White
Weight: 215 grams (per shoe, size 40)
Return to Top