Mountain Shifters
XT SL-M8100-IR Shifter
Excel Sports Part # 114657
Shimano Part #
ISLM8100IRAP
Request Stock Alert
Description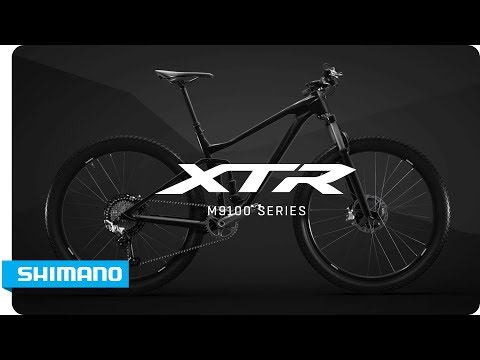 Shimano's commitment to integrated systems is as old as the company itself. For mountain bike cockpit's proper ergonomics and available space can be tricky with all the lever types and remotes available. I-Spec is Shimano's combination mount system, and with the 12-Speed M9100/M8100 groups I-Spec EV was released to offer a wide range of adjustments, including increased lever slide range when mounting the I-Spec EV equipped SL-M8100-IR shifter the to the compatible brake lever clamp mount.
To drive the precision shifting of Shimano's 12-speed XT M-8100 drivetrains, you need the proper rear shift lever. For both 1x and 2x drivetrains, that means the right/rear SL-M8100-IR Shifter (this item is the I-Spec EV model- If you don't require integration, you need the standard clamp-band version, get the SL-M8100-R Shifter). The RapidFire Plus shift lever delivers light and responsive rear shifting for improved control out on the trail. The design offers instantaneous push and pull movements in 2-Way release, as well as delivering Multi-Shift and Instant Release technology. No other shifter offers more. The M8100 engineering advancements enabled Shimano to reduce shifting operation force by 35%, and making main lever access quicker by 20% versus its M8000 predecessor. In other words, the improvements to XT M8100 go much deeper than adding a 12th cog.
The shifter features a combination of materials to achieve a durable, lightweight high performance mechanism. The main bracket is aluminum, as is the main lever body. The release lever body is a combination of Graphene Fiber Reinforced Plastic (GFRP) and steel. The base cover is also GFRP. The I-Spec EV mounting bolt is stainless steel. Each material has been selected for the balance of function versus material performance. XT has a reputation as the most durable, cost effective component range in the mountain bike world, and this attention to engineering detail is why. The shifting mechanisms operate on a pair of sealed bearings, leading to smooth linear shift actions with absolute minimal friction. This mechanical system, with a complicated but long wearing gear drive enable the shift function, with the various use and release actions, including the 4-cog Multi-Shift capability of the main lever.
Shimano equips the SL-M8100-IR Shifter with their top-end, pre-lubricated OT-SP41 outer housing, which carries the OptiSlick Coated stainless steel shift cable. This proven combination is ideal for the stress and requirements of the 12-speed rear drivetrain, especially on full-suspension bikes, where travel pivots greatly impact housing performance. The shifter also carries the derailleur cable tension adjustment knob you need to keep you system dialed in. At just 120 grams, the XT SL-M8100-IR Shifter is crucial to 12-speed drivetrain performance and it will deliver flawlessly, shift after shift as you power up and down trails that ask everything of you,
Return to Top
Features
RapidFire Plus shift lever delivers light, responsive front shifting for improved control
Designed and engineered for Shimano's 12-speed mountain 1x/2x drivetrains
Reduces shifting operation force by 35% over M8000 version
Main lever access is quicker by 20% over M8000 version
Aluminum, steel and GFRP construction, with dual sealed bearing movement
Lever capabilities: Multi Release, Instant Release, 2-Way Release
4-cog Multi-Shift capability of the main lever
Includes OT-SP41 pre-lubed housing with Optislick coated SS cable; all fittings
Rear/Right shifter for 1x12, 2x12 HG+ drivetrains
SL-M8100-IR for I-Spec EV ; for the standard Clamp Band version, see SL-M8100-R
Finish: XT M8100 Series Black, painted
Weight: 120 grams
Return to Top