Nutrition Recovery Drink Mix
Sport Recovery Drink Mix 24-Serving
Excel Sports Part # 988154
Skratch Labs Part #
RDM-CH-1200g
Request Stock Alert
Description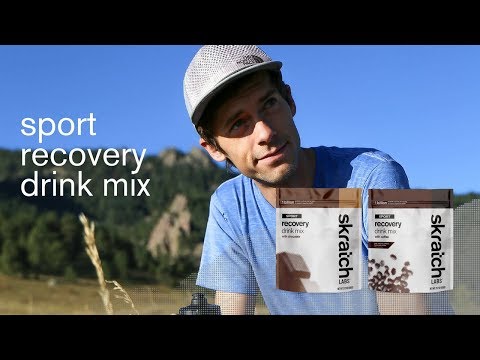 Skratch Labs develops their nutritional supplements and food products from the concept that the proper combination of research science, real-life experience, and wholesome, quality ingredients create best serve the athletes that select Skratch. With the release of the Endurance Recovery Mix, Allen Lim PhD and his team have put forth a product that challenges some of the standard recovery protocol for protein and carbohydrate uptake, and how that ratio should be formulated. It's been very well received and is no offered in pouch size options.
On a basic level recovery consists of three aspects: rehydration, muscle repair, and glycogen replacement. Glycogen replacement serves to replenish sugar, as glycogen supplies in the liver and within muscles burned during typical endurance exercise or competition. Researchers have known for some time that the effective uptake and storage of glycogen and muscle repair is impacted by protein replacement as well. Your body uses both carbohydrates and and protein to rebuild and replenish your energy levels. Skratch has determined that a 5:1 carbohydrate to protein ratio is optimal for most endurance athletes, a substantial change over the 4:1 ratio widely promoted within the supplement industry. There are also necessary fats, which are also required to repair muscle tissue. Of course with Skratch your recovery is fueled by natural ingredients and because taste matters, Endurance Recovery Mix is delicious.
Have you heard of the Digestible Indispensable Amino Acid Score (DIAAS)? It is a protein measure recently developed by the UN Food and Agriculture Organization to measure the effectiveness of proteins in the human population. Why is this relevant to Skratch? It starts with protein sourcing. The complete milk protein used by Skratch's has a naturally occurring ratio of whey protein and casein protein that scores higher via the DIAAS than whey protein isolate, casein protein isolate, or any vegetable protein source- all of which are commonly used instead of milk proteins. The end result is that the protein used by Skratch in Endurance Recovery Mix is the optimal protein for recovery. The human body absorbs it most efficiently.
So yes, there is dairy in the product. Milk provides the protein and the useful fats. Skratch is committed to using not only the best ingredients, but also keeping the overall number of ingredients to a minimum, all of the highest quality. You won't find flavoring or coloring agents, emulsifiers, odd chemicals, or preservatives. With natural flavoring the variable depending on the mix flavor chosen, the ingredients list reads: cane sugar, whole milk, nonfat milk, dextrose, vanilla extract and salt. Sugars to replenish glycogen, proteins and fats to stimulate and repair muscle tissue, and sodium to help restore your electrolyte balance. At 200 calories per serving of Skratch Endurance Recovery Mix you get: 3.5 grams of saturated fat, 260mg of sodium, 36 grams of total carbohydrate (1g dietary fiber, 35 grams sugar), and 7 grams of protein. Remember, it is not the amount of protein consumed, but how much is utilized. Unless you are sensitive to milk fat or proteins, digestions is fast and as thorough as possible. There is no need to consume a mass of under utilized protein that will only serve to cause gastric distress.
With a 12 month shelf life, the product is very stable. Mixed with water the product tastes great, goes down easily, and is absorbed quickly. It is best taken within 30 minutes from completion of effort, to immediately work to replenish and repair. If you approach nutrition, hydration, and recovery as a consistent process, the fuel and electrolyte you take in before and during exercise works to fuel your efforts, and by keeping "topped off", you set yourself up for the most efficient recovery, which is where Endurance Recovery Mix takes over. Chances are if you are reading this, you know about Skratch Labs and their commitment to healthy and empowered endurance athletes. If you don't, take the time to visit their website and read about the science and rationale behind their products. Here at Excel we carry and sell many nutritional products, but a survey of our staff will reveal a strong level of support for Skratch Labs, and when you try use and enjoy their products, you will see why.
Return to Top
Features
Perfectly formulated endurance recovery mix that tastes delicious, absorbs efficiently
Ratio of 5g carbs to 1g protein to best replenish glycogen, repair muscle
Complete milk protein with naturally occurring ratio of whey protein and casein protein
UNFAO DIASS assessment is that this protein balance is most efficient for humans
Protein added to carbs also helps to replenish glycogen stores
Milk protein contains saturated fat, which aids in muscle tissue repair, building
Skratch Labs uses minimal, natural ingredients in every 200 calorie serving
No flavoring or coloring agents, emulsifiers, odd chemicals, or preservatives
Milk only sourced from rBGH/rBST free cows
Non-GMO, Gluten Free, Vegetarian, Kosher
Allergens: contains Milk
Flavor: Chocolate
24-Serving Resealable Pouch
Return to Top