Travel & Storage Car Travel Systems
Thule T2 Pro XTR 2-Bike Rack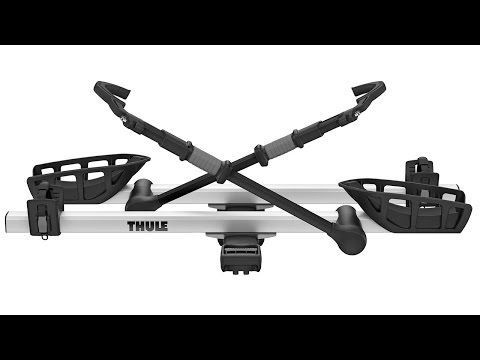 The Thule T2 Pro XTR 2" receiver Bike Rack is an excellent representative of the Thule brand and the evolution of one of the best selling receiver-style racks on the market. Made to high quality construction and design standards, the T2 Pro XTR is sold as a 2-bike system, and a 2-bike add-on affords you to room to grow as necessary. The great benefits of this style rack are that your complete bikes are secured and supported independently, safely behind your vehicle, at a height that easy to load and unload. The T2 Pro XTR can easily levered up 90° to the vehicle, or tilted (loaded or unloaded) down away from the vehicle for easier hatch or trunk access. With this updated Pro XTR version, Thule added two integrated skate-type wheels to the lower frame to make it easier to roll into position for storage or installation as needed.
The versatile design fits most bikes regardless of size, weight, frame design, suspension, or brake style so your MTB fat bike with disc brakes, and it's sibling can ride side by side in style until it is time for you to ride. The deep and graduated width wheel trays deliver crucial control, not matter what size the tire up to 5" wide, and the pivoting ratcheting retention arms secure the bike in place without frame contact and can be manipulated with one hand. The bike trays are adjustable 3" side to side so you can best accommodate frames of various sizes. As a two bike rack, the T2 Pro XTR can handle two 60 lbs bikes with ease.
Thule ensures quick and easy installation with their AutoAttach system, a no tools required set-up. Simply slide the rack into your vehicle's 2" receiver and insert the Thule Auto Pin through the hitch pin hole and shank, then turn hand knob to tighten shank in place. The track is now safely affixed to the vehicle, and won't wobble. You get the One Key core locking system with the rack, with three lock points: at the Auto Attach hand knob to lock the rack to the vehicle, and on each carrier's integrated cable lock system to lock the bikes to the rack. You get three replaceable, coded lock cores to do the job, along with a dummy key that allows you to install or remove unlocked cores, as well as three coded keys.
We have listed the basic tech specifications below to keep this simple. Please confirm with measurements and spec's from your vehicle. Thule's history and reputation have been built on quality vehicle bike and gear carrying systems and the T2 Pro XTR Bike Rack is one of their best ever offerings. If you lose or damage any parts or hardware Thule offers great product support for years after product release. Feel safe on the road with your bikes secured to your vehicle with the Thule Pro XT 2 bike, 2" receiver rack.
Features
Updated2" receiver-style 2 bike rack for 60lb bikes with tires up to 5" wide
Upgradable with 2- bike add-on for four bike capacity (sold separately)
Now features integrated wheels help to maneuver the rack on and off the vehicle
Steel base rack with aluminum and composite components
One person can fold up/tilt away with front-mounted HitchSwitch lever
Large capacity wheel carriers hold 5" tires and have 18" straps
Adjustable bike trays slide 3" side to side to optimize bike spacing
Sliding rear-wheel cradles with ratcheting straps adjust to fit most bikes
Ratcheting hooks on pivoting upright arms hold your bikes securely by the front wheels; no frame contact
Quick and easy installation with AutoAttach system - no tools required
One-Key System locks deters theft of rack and bikes
3 lock cores with dummy control key and three locking keys included
Wheel diameter: 20"-29" with maximum wheelbase of 50-1/2"
Minimum distance from center of hitch pin hole to receiver end: 1-1/2"
Distance between bicycles: 12-1/2"
Distance from center of hitch pin hole to:

Closest part of rack when open: 7"
Closest part of rack when folded up towards vehicle: 5"
End of bike rack when open: 41-1/2"
End of bike rack when folded: 20-1/2"

Dimensions open: 54" x 15" x 43"
Folded dimensions: 54.7" x 22.5" x 33.8"
2 bike weight capacity: 120lbs, max 60lbs per carrier
For Class 2 and above 2" receiver hitches (Class 2 has 300lb tongue weight, Class 3 has 500lb tongue weight)
Using 2 bike add-on: overall capacity is 160lbs, load heaviest bike closer to vehicle but none over 60lbs

Search our site for: 930351 (Black), 930352 (Black/Silver) add-ons

Powdercoated steel construction w/ aluminum and composite hardware
Color: Black
Weight: 52.4lbs