Accessories Trainers & Rollers - Accessories
Description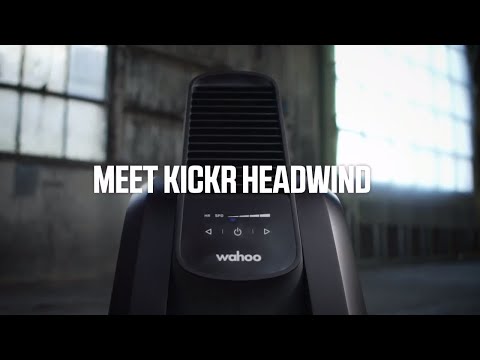 The Wahoo KICKR HEADWIND Smart Fan. Let that roll around your brain a bit, and once you have stopped thinking "a $250 fan for indoor training?", take a breath, open your mind, and think a bit. This is Wahoo Fitness, which has not only established itself as an innovative manufacturer, but also a strong proponent of useful, smart training devices.
The movement towards making indoor training more effective, more stimulating, and enjoyable is not new. What is is new is that there is a company that has been built around developing that experience and creating new tools and pathways to success. Virtually every road cyclist has at least heard of the KICKR Power Trainer and more than a few own one. The KICKR, the ELEMNT head unit, and 3rd party app control (Zwift, Trainer Road, etc) built out the foundation of Wahoo's power training ecosystem. With the addition of the KICKR CLIMB, you can simulate ascents and descents either manually, with course profiles from rides saved the ELEMNT-series computers, or from the 3rd party apps you already use with your KICKR Power Trainer. The KICKR HEADWIND Smart Fan adds a new component to your home training system, and while it is a real fan, albeit with a design Boba Fett would be drawn to, the Smart part of the name is what you need to focus on.
The HEADWIND is the first ever "smart fan", and it designed strictly with the cyclist in mind. It's Targeted Airflow Pattern mirrors the shape and position of a cyclist's body while riding, which means the airflow is more vertical, with just enough width to focus it's flow on the cyclist. The KICKR HEADWIND is sensor controlled so as your speed or heart rate increases, so will the fan speed. Ultimately that is the Smart feature, and if you have ever spent anytime doing intervals, Sufferfest, or app-driven courses on your indoor trainer, you know all too well that a standard fan on "Low" won't keep you from overheating and sweating buckets, and frankly most standard fans can't do that on "High" but even if that is adequate, it can be too much for longer cool down times and end of ride. With the HEADWIND, the sensor driven fan speeds keep your better regulated, and when you need the max airflow, with speeds of over 30 mph (48 kph), the HEADWIND will keep you cool during the toughest training sessions. For recovery or rest days when a 45 minute trainer spin at a consistent pace is your plan, Wahoo also provides 4 manual speed settings so you can set your own ideal airflow.
To control the speed of your KICKR HEADWIND you start by pairing your ANT+ speed sensor, heart rate monitor, or smart trainer directly to the fan. Your other option is to use Bluetooth to connect directly to your smartphone using the Wahoo app, so you have direct control over the manual fan speed functions at hand. Most sensors being used today are dual channel ANT+/BLE compatible, but remember only ANT+ connects directly to the Headwind, so if you have a Bluetooth only speed or HR sensor, you will need to get a new sensor.
Physically, the compact HEADWIND has a small, narrow foot print. In fact it was designed to fit under the Wahoo KICKR Desk, though your actual height and distance set-up may impact that. At 12 lbs and 18"L x 12"W x 19"H, the fan is both stable with it's legs extended, and easy to move. For storage or transport, the 2-position rear legs tucked-in bring the length down 2" to 16". For practical features, it supports wireless software updates (which are coming, including some possible smart home integration). The motor is rated at 120v 60hz, and yes you need to plug it in for power. LED lights exhibit power and fan speed from the rider facing front panel, so it is easy to see when using manual mode, and also whether the auto function is reading off of your speed or HR sensor.
Yes, the KICKR HEADWIND Smart Fan is a fan, but it is a fan built specifically for indoor training purposes. You don't need to have a KICKR Power Trainer to make it work. Particularly in auto mode it has the purpose and function of delivering a more realistic training experience. Think about it, as you go faster outdoors you increase oncoming air speed. You can better manage your perspiration and allow you to hydrate more appropriately. There will be less sweat dripping off of you, preserving your bike, cables, etc, and reducing clean-up time. We know the unit is pricey. There is no getting around that, but Wahoo isn't making millions of fans. They developed this fan, designed it and created the smart control. And if they are lucky they will sell several thousand over time, so the HEADWIND is expensive to produce. No one is making much money on this fan. Wahoo truly sees it as a crucial part of the indoor training environment, and their goal is create the best, most effective indoor training experience they can offer. If that is your goal as well, you can understand the value of such a smart fan, and if you have cut down on the expensive fancy latte's for a several months, not only will you be sparing yourself unnecessary calories, but using the savings to justify your Wahoo Fitness KICKR HEADWIND Smart Fan.
Return to Top
Features
First ever smart fan, designed with the indoor training cyclist in mind
Targeted Airflow Pattern mirrors the shape/position of a cyclist's body while riding
Wind speeds topping out at over 30 mph the KICKR HEADWIND will keep you cool during your hardest efforts
Auto mode is sensor controlled - as speed or heart rate (whichever sensor you have paired via ANT+) increases, so will the fan speed
Pairs to smartphone/Wahoo App via Bluetooth, which allows you to use/select from 4 manual speed settings should to set your own ideal airflow
Size and shape built to be compatible for use with KICKR Desk
Motor Spec: 120v 60hz
Wireless software updates
Connectivity:

Bluetooth: Pair to phone to control the fan speed via Wahoo app
ANT+: Pair to speed sensor, HR monitor, or smart trainer to control fan speed

Dimensions (leg extended): 18"L x 12"W x 19"H (16" length with leg tucked)
Requires AC power (grounded outlet), cord wraps on back of unit when not in use
Color: Black
Weight: 12 lbs
Return to Top