Tools & Maintenance Work Stands
Description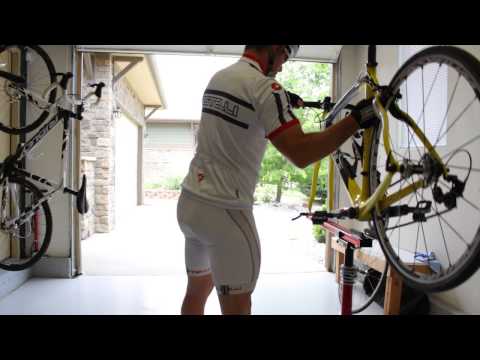 Variety is the spice of life, folks say. But sometimes practicality and experience drive new designs and technologies. Feedback Sports takes an active role in progressing advances in bicycle storage and mechanic stands. But first, a short history session. Several years ago, modified and homemade stands started showing up among the trailers and buses at pro bike races. New frame designs, tube shapes,and carbon fiber construction had forced the pro tech's to be innovative, to assemble stands that supported bikes from the bottom bracket and fork drop outs, so that nothing on the frame was clamped. The idea took off, and most major work stand companies started making options. Regardless of advances in tube clamping, some mechanics found they liked the ability pivot the bike 360 degrees, especially when cleaning or building up a new frame. Even as better clamping systems came along, pro and shop mechanics started using both stand styles based on preference or the job at hand. Feedback Sports looked at the options and figured out how to apply their experience, preferred materials and innovation skills the tripod style fork mount designs. Hence, the Sprint Work Stand came to be.
Feedback Sports had been making tripod style upright stands for years, so adapting this knowledge was easy. The goal was to keep the stand light, compact, portable, and fully functional. Using extruded anodized aluminum, Feedback Sports could deliver a rust proof, stout stand at a light weight. The bike support beam was also extruded from aluminum, but shaped to be stiff and defect torsion over its length. One drawback of existing models was that the beam sat at fixed point, regardless of the balance point of the bike. The designers made the beam adjustable. New axle standards were being developed, so Feedback developed a modular style quick release clamp that could easily accommodate standard QR's, 12 & 15mm thru axles, and is designed for future flexibility. The 20mm thru-axle adapter is sold separately. The fork mount slides easily on the beam's indented side tracks, with a stop at the end for safety. The steel bottom bracket carrier has firm and thick replaceable rubber guards that support the frame without marring finish, and lifts the frame with plenty of room for elongated shapes and cable routing.
The Sprint Work Stand offers working height ranging from 30 to 48 inches. The stable tripod base has a max diameter of 46 inches, and the unit can support up to 85lbs. When folded down for travel or storage, the Sprint is only 30 inches long. At just 12.6lbs, this is a very compact and manageable travel stand. And it is perfect for a condo or apartment. There are many mechanics and cyclists that choose the Sprint as their only work stand. The frame can be reversed and the rear drop outs hold the frame so you can work on the front of the bike- brake adjustment, headset and fork work, etc. The Sprint is the best of the horizontal frame mount stands we have seen. We use it all the time here at Excel Sports for drivetrain cleaning and for working on frames that are just impossible to clamp. For many teams, mechanics, and cyclists, this will be a second stand, but there is nothing wrong with that. The Sprint is great at what it does, seriously stable and compact for travel or storage. We love it. Return to Top
Features
Tripod style, horizontal, frame mount bike stand that is light, compact, and portable
Lightweight, extruded anodized aluminum tubing is stiff, strong and will not rust
Tripod base provides stability even if set up on dirt, gravel or sloping pavement
Base diameter at max open: 46 inches
Single Point Quick release mount holds all sizes of front and rear dropouts
Adjustable work height from 30-48 inches
360 degree rotation, with fully adjustable fork and bottom bracket position
Folded size: 5x7.5x30 inches
To unfold the Sprint just unfold the legs first and then flip up the crossbeam
Includes hub compatibility parts for:

Quick-Release: 9×100 / 130 / 135mm
Thru Axle: 12x100mm / 142mm / 148mm (Boost rear)
Thru Axle: 15x100mm / 110mm (Boost Front)

Load capacity: 85lbs
Weight: 12.6lbs
Please note: Padded storage/transport bag sold separately.
Return to Top
---
Reviews
Average Rating:
---
MICHAEL
Posted on April 8, 2016
Rate:
This is an amazing, compact, light-weight stand. I have had several work stands over the years (I do my own maintenance) and this is one of the best. From the top down: there is no ugly CLAMP one has to cushion to keep it from marring the finish on the top tube: it clamps the fork; it is SO EASY to move the bike around, swinging the bike attached to the stand, can go a full 360 degrees. Try THAT with a clamp-style; easy to move the bike/stand up and down to access various parts of the bike; light-weight and folds in to a VERY small package (get the bag to go with it). I was worried about how stable the bike would be with the bottom bracket just sitting on the rubber carriers: no problem at all. I have a strap through the strap holes but have never had to strap the bike down. The only drawback I found was while replacing shifter cables: the guide on the bottom of the bottom bracket is hidden. A minor set back at best. THIS is my favorite stand and a DEFINITE for traveling! Get one!