Tools & Maintenance
Park Tool CC-2 Chain Checker
Park Tool CC-2 Chain Checker
Precisely gauge the wear of your chain and replace it at exactly the right time. Park Tool's CC-2 Chain Checker offers a fantastic way to determine chain wear and stretch. This can determine how much life a chain has left or if it is in need of replacement. Simply insert the Chain Checker's pins into two links, press the swing arm gauge tight, and then check the gauge window for an accurate reading.
The CC-2 is compatible with all speed chains used with derailleur systems. For 9 and 10-speed chains, replace chain at or just before the 0.75% readings. For 11 and 12-speed chain, replace at or just before the 0.5% reading. Always follow manufacturer instructions for specific chain replacement instructions.
Details
Easy to use, reliable and durable shop-level chain stretch indicator tool
Helps you keep your drivetrain protected and shifting properly
Chains wear faster than other drivetrain components, but delaying a chain change once it is stretched wears your rings, cassette, and pulley wheels faster
Clever and simple design, align pins in chain links, and read gauge through window in tool handle
Handle made from machined aluminum; with steel pins
Every reasonably serious cyclist can benefit from owning and using this tool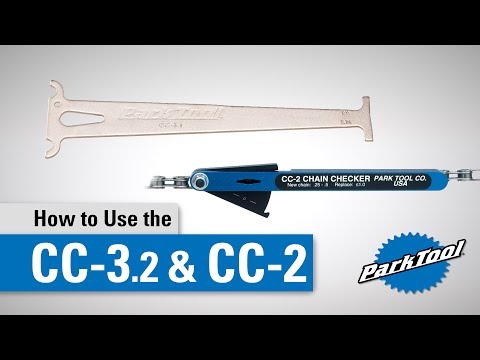 Average Rating:
Anonymous
Posted on 5/18/2014
I have used mine for years with no problem and more importantly NO CHAIN RELATED FAILURES. It is really important to maintain, and change, chains in hostile dirt environments i.e. BMX and mountain biking!
Pros It is simple to use; even with the chain mounted.
Cons It is so simple it is easy to forget to use it!
Anonymous
Posted on 4/1/2013
I'll give this device a 5-star simply because it's a Park Tool. But more importantly I want to provide the Campagnolo Record 10s Ultra Narrow chain (5.9mm) fans with a tad of advanced advice. You will want to measure the wear of your chain with a high quality digital micrometer. Campy Record 10s ultra narrow chain should measure NO MORE than 132.60mm max link space (inside bushing to inside bushing). Carefully measure your chain in two to three areas. If your chain even measures 1mm too long in any given location, it's time to change your chain. Your campy equipment is produced at the highest of tolerance and must be maintained at exactly those tolerances. To not do so will do two things: needlessly wear out companion parts/components, and secondly, may cause danger due to component malfunction. When Campy is properly maintained it is perfect, and when it's not it will most likely not work at all.
Pros Park tools are great, and compatible with Campy!
Cons NONE
Anonymous
Posted on 8/3/2008 7:18:16 PM
Typical Park quality ie very well made. If you worry about the details like chain wear this tool will put your mind at ease. Simple to use. I didn't have any concern about subjectivity or reading, finding it very clear. The trick is not to force it, as detailed in the instructions.
Anonymous
Posted on 3/26/2007 2:25:44 PM
I use the CC-2 chain checker to monitor my chain wear. The swingarm works very well and lets me know when my chain wear is approaching .75%. And, the tool is less than half the cost of one chain! This is especially important given the replacement cost of cassettes and chainrings. I'd rather replace a worn chain at the right service interval for $50 than have to replace a chain, cassette, and chainrings due to using a chain past its service life.