Tools & Maintenance
Park Tool PW-4 Pedal Wrench
Park Tool PW-4 Pedal Wrench
The PW-4 Professional Pedal Wrench is designed for heavy shop use but perfect for the home mechanic as well. By slanting the 15mm wrench openings to 30 degree and 45 degree angles you achieve the best mechanical advantage to remove the pedals, regardless of the pedal position. An oversized, asymmetrical head is made from Cro-Moly steel for superior strength and durability. While strong, the PW-4 is thin enough to access all wrench flats. An extra long 14" handle provides the leverage to remove even the tightest pedals. The handle is round and vinyl dipped so it won't dig into the hand like flat wrenches. We never met a mechanic that actually enjoys removing pedals - this tool makes it easy. This is the best pedal wrench ever made period.
Features
Hardened steel construction
Oversized, beefy head
Lang, oversized handle for max torque
Orientated 15mm slots for mechanical advantage
Vinyl dipped handle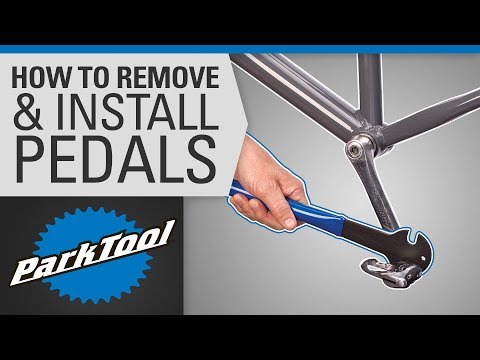 Average Rating:
Anonymous
Posted on 4/25/2006 11:01:24 PM
I've spent hours trying to get one of my pedals of my bike with all kinds of tools, only to find myself getting more and more frustrated and enjoyed because the damn thing just didn't respond the slightest bit. Until I got myself a PW4, put it on the pedal and it came off in less than a second! The two openings allow for a proper positioning of the wrench (at the right angle) so that there's no moving of cranks, and the long lever makes it extremely easy to put lots of torque on the pedal without need for a hammer - which can only be a good thing for my bike!
Anonymous
Posted on 3/29/2006 12:19:31 AM
The Mother-of-all-Pedal Wrenches. Nothing is easier, when it comes to pulling pedals off or putting them on. Worth every penny, each biker should own one of these if they travel often & need to take them on/off frequently. 6 out of 5 stars...(off the scale).
Anonymous
Posted on 8/3/2004 2:24:28 PM
This thing is The Goods. Had Howard Hughes ever designed a pedal wrench, it would have been this one. If you've ever smashed your knuckles on a chainstay while removing a pedal and you want to avoid repeating that wonderful experience, here is your answer. Also, if your friends pillage beers from the shop fridge too frequently, this hefty wrench doubles quite well as a deterrent.